Weak academies need better supervision, says Laws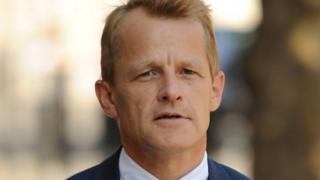 Hundreds of struggling academies in England are being kept under "close watch" by the Department for Education, says schools minister David Laws.
Mr Laws says local supervision of academies needs to be improved, such as by allowing Ofsted to inspect academy chains.
He also says "open warfare" between teachers and politicians is stopping people wanting to become teachers.
Such political conflict will "repel some of the best people", says Mr Laws.
In a speech to the Centre Forum think tank, the minister will emphasise some of the dividing lines on education within the Coalition government.
'Off the hook'
He accuses his Conservative coalition partners of failing to introduce proper oversight for academies, leaving schools to under-perform for too long.
"We simply cannot let either failing chains or local authorities off the hook - or children's education will suffer."
There are hundreds of academies currently under close scrutiny by the Department for Education, reveals Mr Laws.
He says that there should be a better system for local accountability and that it should not rely on such government intervention.
Mr Laws says that the Liberal Democrats would allow Ofsted to inspect academy chains in the way that they can local education authority services.
"I regret that neither Michael Gove nor the present Secretary of State has been willing to give those powers to Ofsted," says Mr Laws.
He also warns that the regional school commissioners who have been appointed to supervise academies are expected to cover "absurdly large areas".
"We are allowing too many underperforming schools, weak local authorities and mediocre academy chains to deliver poor education for too long," says Mr Laws.
The schools minister also criticises the "confrontational stance some Conservatives have taken towards the teaching profession".
"Bluntly, we need to be nicer to teachers," says Mr Laws.
"Frankly, some of the very best people will look at the open warfare between teachers and politicians and simply decide that the profession is not for them," he said.
He also distances himself from the decision to allow people without teaching qualifications to become teachers in academies and free schools.
"I find it as bizarre to suggest that teachers should be able to teach without a proper recognised professional qualification as to suggest that a doctor or dentist should be able to practice on us without training," says Mr Laws.