More support urged for gifted pupils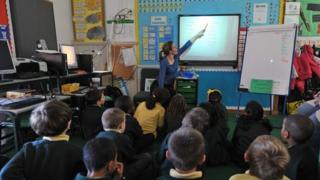 The most able pupils in English state schools need more help to reach their potential, says an education charity.
Too many bright 11-year-olds fail to maintain their early advantage or progress to higher education, says the Sutton Trust.
The trust wants a national support programme for able pupils to replace the "gifted and talented" programme, which ended in 2011.
The government said higher standards in all schools would benefit every child.
The charity says since the gifted and talented programme there has been "very little activity to support highly able pupils from low and middle income backgrounds in the early stages of secondary education".
'Overtaken'
It notes that in June this year the Social Mobility and Child Poverty Commission reported that disadvantaged children who start out as high-attainers are often overtaken by average children from better-off families.
According to that report nearly 2,200 fewer disadvantaged students attend elite universities than would be expected if they had followed the same educational trajectory as their better-off peers with similar abilities at the age of 11.
Other research from the Sutton Trust has estimated about 60,000 bright pupils in any given school year do not make it to any university despite their early promise.
"If we want more students from low- and middle-income homes to be in the running for university places when they are 18, we need to support them much earlier on, so that they continue to do well at school, have high aspirations for their futures and make the right educational choices," said Sutton Trust chairman Sir Peter Lampl.
The trust also quotes 2009 data from the Organisation for Economic Co-operation and Development (OECD) which ranked the UK 26 out of 34 countries for the performance of its brightest 15-year-olds in maths.
It points out that the drop-off in performance of pupils in low- and middle-income groups can only damage the UK's overall performance.
'Ring-fenced'
The trust wants ministers to introduce a national programme with ring-fenced funding for highly able state school students.
Parents and teachers polled for the trust agreed there should be more programmes for these pupils.
Some 80% of 1,169 parents felt state schools should provide such programmes, while 90% of 1,163 teachers agreed they were "important" or "very important".
The Sutton Trust has launched its own programme to send 400 bright 11- to 14-year-olds to regular seminars and residential teaching sessions at four top universities (University College London, Cambridge, Nottingham and Warwick).
It says this is just one model for how a national support programme could work.
It calls on the government to develop an evidence base showing how best to support highly able pupils and to ensure teachers are trained to challenge them effectively.
A Department for Education spokeswoman said: "Our plan for education is to raise standards at all schools so every child, including the most gifted, can achieve their full potential.
"Schools are best placed to know and respond to the individual needs of their pupils."
The spokeswoman said schools were free to use their funding to offer extra support to talented children as well as using pupil premium money to help those from poorer backgrounds.
"In addition, our destination data shines a light on schools that get their top pupils into leading universities so others can learn from their success."