How many good schools are there really?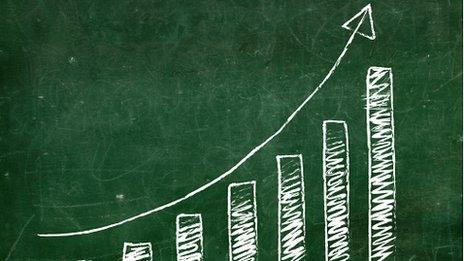 How many good and outstanding schools are there in England? Record levels, never been so many before. That's the official verdict of the education watchdog Ofsted.
"The proportion of schools judged good or outstanding at their most recent inspection reached 81%.
"This is the highest proportion of good or outstanding schools there has ever been."
But what does this 81% figure really mean? Do parents really have more than a four in five chance of getting a good or outstanding school for their children? And how has it risen so rapidly? Or is this the inspection equivalent of grade inflation?
"Outstanding" and "good" are the top two inspection grades - with "requires improvement" and "inadequate" the bottom two.
For many years, about two-thirds of schools were in the top two grades, but this has soared.
In 2009-10, it was 65% and then in 2010-11 and 2011-12 it had risen to 70% and then jumped again in 2012-13 to 78% and by August 2014 it had reached 81%.
Politicians have seized upon such a spectacular improvement. Who could blame them?
"Our plan is working: 800,000 more children are in good or outstanding schools," said Prime Minister David Cameron. And expect to hear it again between now and the general election.
It gives the government evidence its reforms are working, it makes Ofsted look as though it's driving improvements and it makes schools leaders look better than ever before.
But what does this record high figure really represent? How have school ratings gone up so sharply when exam results have flat-lined or fallen?
First, what it doesn't mean. Inspectors have not visited every school this year and found 81% were good or outstanding. And it's not about the results of this year's sample. Among those actually inspected, there were 63% good or outstanding.
The headline figure of 81% is a composite figure, bringing together data from across the past eight years up to August 2014, showing where schools had reached at their most recent inspection.
Former senior Ofsted official Frank Norris, now director of the Co-operative Academies Trust, described the figures as "smoke and mirrors".
He suggests that how inspections are targeted could be pushing up the total.
"The system throws more and more schools into the outstanding category each year," says Mr Norris.
Outstanding schools are no longer routinely inspected (about 90% of outstanding schools were not inspected in the past year according to Ofsted's figures) and some have not been inspected since 2006 and 2007.
So what goes up, tends to stay up. The chances of relegation are more limited.
For schools requiring improvement, the opposite is the case. They are much more likely to be inspected, with many more chances for schools to cross into the 'good' category.
To borrow a football analogy, it means there are many more chances of promotion than relegation. And as each year passes, the numbers in the top tier are incrementally growing.
But if the premier league grew much bigger, would that mean there were many more good teams?
Mr Norris says that he is pleased that Ofsted is bringing back quality assurance "in-house" with directly-employed inspectors at the core of the work.
This should improve the reliability of outcomes, he says.
But the former Ofsted inspector says that he is "at a loss" to explain how objectively there could be such record numbers of good and outstanding schools, compared with a few years ago.
He says that Ofsted would attribute it to its new inspection framework and the replacement of the "satisfactory" grade with "requires improvement".
"There may be an element of truth in this but surely this dramatic rise is not solely down to schools suddenly jumping higher," says Mr Norris.
Suzanne O'Farrell, the inspections expert for the ASCL head teachers' union, has done some number-crunching which casts a revealing light.
She says that the idea of 81% schools being rated good or outstanding is "certainly not the picture we get on the ground".
Inspections between January and October showed about 49% of schools were getting these top two grades, although this could reflect that weaker schools are being targeted.
There were also signs of a tougher approach, with more schools being downgraded.
What allows the headline figure to remain so unprecedentedly high is that many of the inspections included in the current total will be from years before, under a different inspection framework.
And it's not as though outstanding schools are permanently infallible. A wave of no-notice inspections this autumn resulted in the downgrading of some schools all the way from outstanding to inadequate.
In the Trojan Horse investigations in Birmingham, schools which had been outstanding, and part of the swelling numbers of top schools, were re-inspected and found to be inadequate.
But back to the key question for parents. Do they have a four in five chance of a good or outstanding school place?
Another anomaly lurking below the surface of the 81% figure is that it depends on whether you are looking at primary or secondary schools.
Primary schools tend to do much better - and the figure for secondary schools is about 70%. But because there are so many more primary schools, it pushes up the average.
It also depends on where you live. There are big regional differences.
The Watchsted.com website, which tracks Ofsted reports, runs an updated local authority league table. For secondary school places, there are four boroughs in the London area where 100% of schools are good or outstanding. But if you're looking in the Isle of Wight, it's only 19%.
Ms O'Farrell, ASCL's inspection specialist, says that their figures show that this year only 1.5% of schools were rated outstanding in the north west of England and 23% in London. "There are huge variations," she says.
Russell Hobby, leader of the National Association of Head Teachers, says that parents and schools face the confusion of comparing constantly changing inspection systems.
"Since Ofsted's foundations there has been a new framework every few years," he said.
The NAHT has called for outstanding schools, which have not been inspected under the most recent framework, to be given a light-touch inspection.
"We believe that this would help give a more accurate picture of the actual number of good or outstanding schools in England."
Brian Lightman, head of the Association of School and College Leaders, said that the frequency of changes in the inspection and exam systems made it increasingly difficult to make meaningful comparisons between schools over time.
Ofsted robustly rejects any doubt being cast on the validity of its figures.
An Ofsted spokesman said the watchdog had "absolute confidence that it's a true reflection" of the current state of schools across England.
And don't expect any wavering from Ofsted chief Sir Michael Wilshaw, when he presents his annual report on Wednesday.
He has already seen off critics from left and right and is arguably the most dominant figure on the education landscape.
Parents looking round schools for their children will probably agree with the idea that schools really have improved, they are better organised, more conscientious, more caring and harder working than a generation ago.
But when so much about schools is expressed as data, it's more important than ever to think about what those numbers really mean.