College of Teaching to raise profession's status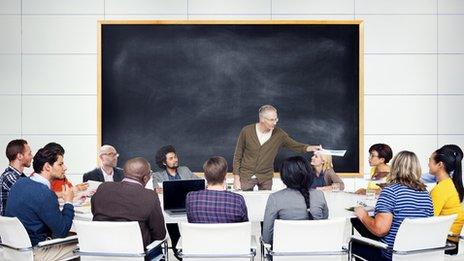 A College of Teaching, endorsed by ministers but independent from them, is to be created for teachers in England.
The college will aim to protect standards and to raise the status of the teaching profession.
Education Secretary Nicky Morgan and Schools Minister David Laws have launched a consultation on how the college should be organised.
Ms Morgan says she wants teaching to be seen as having a similar status as professions such as medicine and law.
In a joint statement with Mr Laws, the education secretary says teaching is "almost unique amongst the professions in lacking such an organisation".
"Government must not seek to control such a body. But we can do more to make the vision a reality," says the joint statement from the Conservative and Liberal Democrat education ministers.
The ministers say that this college, expected to open in the next two years, "will allow teachers, like other professions, to set their own high standards for their members; to take a lead in improving the profession's skills and abilities; and to champion higher standards for children".
There is a call for a "revolution in the scale and quality of development opportunities available to teachers".
The ministers say they will set up a fund to provide "evidence-based professional development, led by a network of more than 600 outstanding teaching schools".
The joint statement marking the process of launching the college also notes the rise of teachers carrying out their own research and promoting evidence-based practice.
"Too often teachers tell us that, despite pockets of excellent practice in schools, the professional development they receive is poor quality and does little to help them improve," say the ministers.
Among the proponents of teachers becoming more "research-literate" in their approach to training is Tom Bennett, who teaches in east London. On Monday he was announced as one of two UK finalists in an inaugural $1m Global Teacher Prize.
Head teachers' organisations have spoken in support of setting up a College of Teaching.
Russell Hobby, leader of the National Association of Head Teachers, said this was a "pivotal moment for the teaching profession".
"The ball is now in the profession's court. Will it rise to the challenge and take control of its own destiny? Will it build a consensus and get all the interested parties and representative bodies backing a united project to take this forward? Will we learn from the past to build an institution that thrives outside the short-term political cycle?"
Peter Kent, president of the ASCL head teachers' union, backed the creation of an "independent body owned and led by the teaching profession".
"The backing and support of the government is essential, but we also welcome the recognition by ministers that this has to be led by the profession," he said.
"The teaching profession needs a coherent framework for professional development, starting with initial teacher education and covering all stages of a teacher's career. Teachers should never stop learning."
Christine Blower, leader of the National Union of Teachers, said: "Attempts to raise the status of the teaching profession are now critical. Teacher morale is dangerously low.
"This desperate state of affairs arises from an almost total lack of trust in teachers and a punitive inspection and accountability regime which is leading to excessive workload."
James Westhead, executive director of Teach First, highlighted the importance of teacher development as part of the college proposals.
"Helping both new and existing teachers increase their effectiveness and quality, and raising the status of the profession, are the most vital drivers to ensure every child, especially the most disadvantaged, gets a fair and world class education," said Mr Westhead.
Labour's shadow education secretary Tristram Hunt criticised the government for "allowing unqualified teachers into our classrooms on a permanent basis and has signed off on the lowest entry requirements in to teaching anywhere in the developed world".
Mr Hunt warned that the government had missed "recruitment targets for three consecutive years and we see a crisis brewing in our school system."
A General Teaching Council for England, which was a professional, regulatory body for teaching, was opened in 2000, but was scrapped by the current government when it came into office in 2010.
There are General Teaching Councils for teachers in Scotland, Wales and Northern Ireland.