Hague says UK universities deliver overseas influence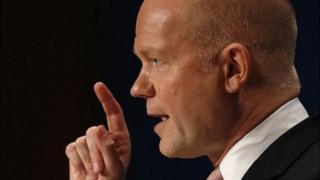 Universities are now a "crucial" part of the UK's "soft power" in projecting international influence, says former foreign secretary William Hague.
Their recruitment of overseas students "enriches and strengthens our universities and our future economy and our influence in the world", he said.
Mr Hague said foreign policy was being redefined by social media and the global reach of online communications.
"In the 21st Century, foreign policy is no longer the preserve of governments."
Speaking at the University of Greenwich, Mr Hague described the international impact of the UK's universities and their role in promoting "democratic values" in a time of growing authoritarianism.
He highlighted the importance of universities as places for exchanges of ideas and cultures - and the long-term influence of attracting overseas students.
'Huge asset'
"They are a huge asset and advantage to our country, enabling the exchange of ideas across so many borders and religions and cultures.
"As foreign secretary I met leaders and parliamentarians from all over the world, from Afghanistan to Brazil, from China to Somalia, who said their time studying in Britain began a lifelong affinity with this country.
"The strength of the British university education is one the nation's most distinctive contributions in the world.
"In the 21st Century, foreign policy is no longer the preserve of governments speaking behind closed doors.
"It's also about that web of connections between individuals, groups, companies and all kinds of organisations, on social media and international travel."
Universities were now a "critical part" of the UK's soft power, he said.
The government has come under pressure from universities to ensure that the visa system does not obstruct the recruitment of students. But ministers have rejected calls from universities to remove students from migration targets
'Autocratic capitalism'
Against a background of rising authoritarianism in eastern Europe and the political upheavals and conflicts in the Middle East and North Africa, Mr Hague said universities had a role in the "transmission of democratic values and ideals".
Mr Hague, leader of the House of Commons, warned that it had proved a "false assumption" that there would be an inevitable rise of democracy after the fall of the Berlin Wall.
"We cannot take for granted the progress of those values. We've seen the rise of autocratic capitalism, rather than open markets and democratic societies - sometimes rather kleptocratic capitalism.
"So that can't be taken for granted. The assumption in the 1990s that those democratic values would become universal, we can see that was a false assumption and we will need, in the coming decades, to explain those things more and to cherish them more."
Promoting the principles of democracy would have to become "an important part of the foreign policy of western nations".
Mr Hague, the author of books on William Pitt the Younger and William Wilberforce, says that when he was foreign secretary he valued the contribution of the department's in-house historians.
"I found there was a formal group of historians in the Foreign Office, but they were in a kind of basement in the Admiralty Building.
"I moved them into a central location in King Charles Street and consulted them about speeches and policy decisions. Books were brought out of dusty corners and put on shelves in a library.
'Importance of history'
"I hope future foreign secretaries will continue to consult them and understand the importance of history."
The pressure of events meant that there "isn't time to dwell" on the conflicts and challenges facing previous foreign secretaries.
"It doesn't really feel like that most of the time, you're too busy. But you do have to learn historical lessons. That's what I tried to do - and will try to write more history now I'm going to be free of politics."
Mr Hague was opening a new £76m building at the University of Greenwich, housing a library, lecture theatres and creative studios.
The university already occupies historic buildings beside the River Thames in the Old Royal Naval College and the newly opened buildings gives it a modern base in the middle of Greenwich's world heritage site.
Mr Hague was welcomed at the university by vice-chancellor David Maguire and chancellor Baroness Patricia Scotland.
She said that she wanted the open, accessible style of architecture to reflect an open and inclusive university.
Mr Hague is due to stand down from frontline politics after the general election.
" I will return to my books," he said.