TV chef Lorraine Pascale to become foster ambassador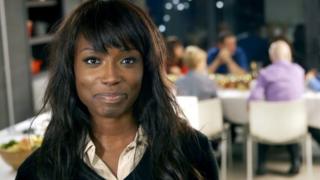 TV chef Lorraine Pascale is to become the government's first fostering ambassador.
Pascale, who was fostered herself as a young child, has spoken about her background on a number of occasions.
She has also campaigned for more support for foster children and their families.
The Department for Education said she would "champion fostering" in England and encourage more people to think about becoming carers.
Pascale said: "It's a cause that's extremely close to my heart and I know from personal experience how critical and important this work is."
Children's Minister Edward Timpson said: "As someone who grew up as part of a large foster family, I know only too well that fostering can be one of the most rewarding experiences life can bring, as well as having a life-changing impact on a child's life.
"Lorraine is an inspiration to many foster children and their parents."
The government recently unveiled reforms to the adoption and fostering systems - including changing the rules to allow children to stay with their foster families until they are 21, giving carers powers to make day-to-day decisions about children in their care, and making the assessment process clearer and quicker.