Children's mental health is parents' greatest concern
By Judith Burns
Education and family reporter, BBC News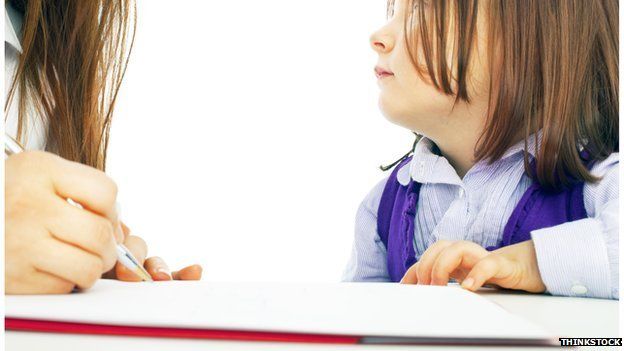 Parents in the UK are more likely to worry about their children's mental well-being than any other health issue, suggests research.
Some 40% of 2,267 parents surveyed by Action for Children said their children's emotional well-being was a primary concern.
Among mothers, this rose to 47%, according to the charity's analysis of data collected by YouGov last year.
The charity wants more early support for families to prevent major problems.
"Spending time and money preventing a problem rather than repairing the damage is the right and logical thing to do.
"With councils facing reduced funds, we are calling for a shift in funding towards early support to help prevent concerns or issues from becoming major problems," said chief executive Sir Tony Hawkhead.
YouGov carried out online interviews with 9,015 adults across the UK, of whom 2,267 were parents of children aged 18 or under.
The results suggested fathers were less likely to worry about their children's mental and emotional well-being, with 32% highlighting it as a concern.
But one father, Lee aged 24 from Hampshire, urged parents "to ask for help if you are worried about your kids".
"I had a bad split from my partner and it left my son feeling very anxious.
"As a result, his behaviour became very difficult and he would panic when he wasn't with me.
"I felt like I couldn't cope but staff at the children's centre helped me regain my confidence and I did parenting courses to better understand and support my son.
"We are both happier as a result and I feel like my son is getting a much better start in life."
Sir Tony said children's centres could help children "play and make friends in an environment that promotes emotional well-being.
"We have seen for ourselves how giving children and their families the right support early on can make a difference to their lives and help them reach their potential."
A spokesman for the Local Government Association, which represents local authorities in England, said councils played an important role in ensuring children and families got the help they needed "sooner rather than later".
"Children's services teams are under more pressure than ever before to focus their resources on delivering the right support at the right time to make a real difference - and councils have demonstrated the difference they can make to families when given the necessary powers and adequate resources.
"Focusing money on tackling root causes of problems rather than treating symptoms provides a better deal for the public purse and for the people we are trying to support - and is vital if we are to make public services sustainable in the long term."
Some 32% of the parents surveyed said their children's diet and weight was a concern, while 21% worried about serious illnesses like cancer, 20% feared long-term health conditions like asthma or diabetes and 10% worried about allergies and food intolerance.
The differences between the fears of mothers and fathers was most marked on mental health.
But mothers were also more likely (37%) to be concerned than fathers (27%) about their children's eating habits and weight.
Related Internet Links
The BBC is not responsible for the content of external sites.