University opens forensic science crime scene house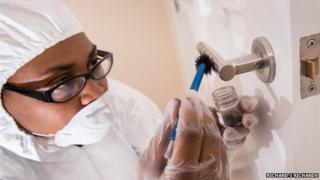 Forensic science students at University of Derby now have the chance to practise their skills in a custom-built crime scene house.
Hidden inside what looks from the the outside to be a normal four bedroom house are seven replica crime scenes.
Each room is equipped with CCTV, allowing tutors to monitor students while they work independently.
The University's head of forensic science, Dr Ian Turner, said students could now work in a real life context.
'Hands-on'
The crime scenes inside the £410,000 facility include a bedroom, bathroom, office, shop, garage and living room where students can learn how to collect and analyse the evidence they would need for court statements.
There is also a blood pattern analysis room inside the house, which the university believes is the only one at a UK university.
Senior lecturer Jon Wright, who leads Derby University's BSc course in forensic science with criminology, said the angles at which blood hit walls and floors could give clues as to what had happened at a crime scene.
As well as helping train students how to analyse blood patterns, he said, the room could be used to test out scenarios in real life court cases.
Mr Wright said having realistic commercial premises such as a shop, an office and a garage in the house was useful "as a lot of crimes happen on commercial premises".
The university stresses forensic science is "a very hands on discipline" so students "won't just sit in the classroom - there is lots of practical work".
The university has filmed a 360 degree virtual crime scene in the facility so that students can also investigate the scene remotely.
As well as using the facility for its own students, the university plans to hire it out to external clients such as the emergency services for staff training.
"This is a really exciting development," said Dr Turner.
"Having this resource onsite allows us to give our students the skills needed to develop a career in forensic science, because they are learning in a real life context, with the same equipment and facilities used by professionals."