'Trojan Horse review': DfE 'lacked inquisitiveness'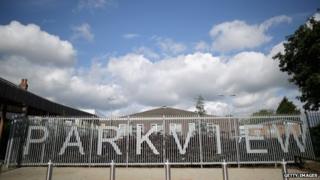 The Department for Education "has in the past lacked inquisitiveness" about extremism in schools, an internal review by the department has found.
The review began after claims that hard-line Muslims had tried to gain control of school governing bodies in Birmingham - the "Trojan Horse" affair.
"Procedures could have been tighter than they were," says the report into its handling of the claims.
The review was commissioned by former Education Secretary Michael Gove.
Written by the DfE's top civil servant, Chris Wormald, it has found no instances of the DfE ignoring "specific warnings" of extremism in schools.
But it also notes: "The department needs always to be vigilant and inquisitive and have robust systems in place."
Investigations
This is the latest in a series of investigations into the allegations, which were sparked by the so-called "Trojan Horse letter" - now widely believed to be a hoax.
The anonymous letter, which was sent to the local council, referred to an alleged plot by hard-line Muslims to seize control of a number of school governing boards in the city.
In June, Ofsted issued a damning verdict on the running of a number of Birmingham's schools and declared five failing, placing them into special measures.
Those schools were Golden Hillock School, Nansen Primary School and Park View Academy - all run by the Park View Educational Trust (PVET) - as well as Oldknow Academy and Saltley School.
In a written ministerial statement, current Education Secretary Nicky Morgan endorsed the latest review and its recommendations.
Mrs Morgan also announced a series of measures to strengthen systems within the department.
These include increasing the size of the DfE's Due Diligence and Counter-Extremism Division, and introducing a formal system for staff to refer concerns about extremism to the division.
Head teacher's concerns
The report says the DfE was contacted six times about matters relating to potential extremist infiltration in Birmingham schools between 1994 and 2013.
It also highlights how a DfE minister and officials met Birmingham head teacher Tim Boyes on two occasions in 2010.
The then education secretary was not aware of these meetings at the time. At both of these meetings, there was a discussion about the challenges that political Islam posed for schools in Birmingham. The discussions covered similar issues to those raised in the Trojan Horse letter.
The report says the minister arranged for Mr Boyes to come into the DfE to discuss this issue further with officials who were working on counter extremism.
At this second meeting, there was a presentation from Mr Boyes which set out the kinds of challenges facing schools in Birmingham through the use of largely anonymised case studies.
The discussion is said to have focused on general policy issues rather than a call for specific intervention on particular schools.
However, a suggestion was made that a further discussion with a wider group of head teachers should be held - but this meeting never took place, says the report.
Mr Wormald concludes: "Whilst I have not found evidence of people having acted inappropriately, I have concluded that in individual instances the department has lacked inquisitiveness on issues relating to potential extremism or destabilisation of schools by external interests."
He adds that the department "has not historically treated the issue with the same robustness as it has demonstrated in dealing with warnings about, for example child protection".
'Local oversight'
The National Association of Head Teachers called for sustained support for school leaders who raised concerns about extremism, and more local oversight to identify issues "before they become crises".
"No central government department can or should police the entire education system for extremism," said NAHT General Secretary Russell Hobby.
"Where school leaders are taking the brave and difficult step of reporting their concerns, they have a right to expect a proactive response."
Labour's shadow education secretary Tristram Hunt said Labour was committed to providing stronger local oversight of schools.
"The recommendations that the education secretary has committed to taking forward today do not include any new measures for strengthening school oversight.
"It is common sense to suggest that if we are to properly monitor what is happening in our schools and act on intelligence coming from the local community, we need local oversight."