Families with children 'face income stagnation'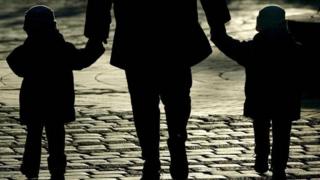 Families with children are at greater risk than any other group in the UK of having less money than they need to live on, suggests a new analysis.
The number of parents and children on inadequate incomes rose by more than a third in the five years to 2013, says the Joseph Rowntree Foundation.
Stagnation in the incomes of young working-age adults coupled with benefit cuts are to blame, say the researchers.
The government said the figures were not a true measure of poverty.
The researchers compared incomes with a measure of what is needed for a minimum acceptable standard of living.
The Minimum Income Standard is used to set the Living Wage and is updated annually to reflect inflation and changes in public opinion on what is needed for an acceptable standard of living.
The researchers define it as "more than just food, clothes and shelter".
"It is about having what you need in order to have the opportunities and choices necessary to participate in society," they say.
'Poor prospects'
Analysis of the most recent figures, for 2012-13, suggested at least 8.1 million parents and children had incomes below what they needed, up by more than a third from 5.9 million in 2008-9.
Seventy-one per cent of lone-parent families reportedly found themselves struggling to make ends meet, up from 65% in 2008-9.
Over half (51%) of two-parent families where one partner does not work also found their incomes squeezed, up from 38% five years before.
The study also said almost a quarter (23%) of young adults in childless households were hard-hit by poor job prospects and low incomes in the immediate aftermath of the recession.
This group may find their prospects improve as employment rates for younger adults recover, say the researchers, but working families with children who rely on benefits to top up low pay "will continue to feel the effects of stagnating wages".
'Serious consequences'
Co-author Katie Schmuecker said the figures showed "a turnaround in who is suffering most as a result of the economic crisis".
Last year it was young single people, but "this year's report shows a rapid widening of the gap between the incomes and costs of families with children".
Ms Schmuecker urged government and employers to take action to avoid "serious consequences for the next generation".
Alan Milburn, chairman of the Social Mobility and Child Poverty Commission, said the report was further evidence of the impact stagnating wages and "fiscal consolidation" was having on the poorest families.
Mr Milburn urged the next government to "re-couple earnings growth with economic growth" to protect the working poor "from the impact of continued austerity".
The authors say the government should:
peg minimum wage rates to changes in living costs and average wages
ensure poor households do not pay more for energy, transport and financial services
urge more employers to pay the Living Wage
allow earners to keep more of their pay before benefits are withdrawn.
A government spokeswoman said the study was not a reflection of poverty in the UK.
"As acknowledged by the Joseph Rowntree Foundation themselves, the Minimum Income Standard is not a measure of poverty.
"Items which are considered to be a basic requirement change as people's expectations change over the years and include takeaways, a salary of £27,000 per person and money for taxi hire.
"The reality is that since 2010, 300,000 fewer children live in relative poverty and the number of children growing up in workless families is at a record low.
"The government's long-term economic plan is working, with more people in work than ever before and wages now rising faster than inflation.
"UK income inequality is now lower than when this government came into office and the recovery is being felt across the country."