Ofsted 'blinkered' on child protection, say councils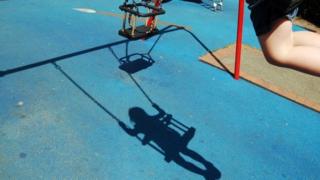 Ofsted's approach to inspecting child protection services in England is "blinkered", say council leaders.
The current system fails to assess the work of "crucial agencies" such as health services and police, says the Local Government Association.
Joint inspections of all the services involved in child protection would help ensure fewer children suffer abuse and exploitation, says the LGA.
Ofsted said it was evaluating pilot schemes of such integrated inspections.
The LGA says it wants the roles of all staff involved in protecting vulnerable children to be monitored and included in a judgement.
They are concerned that the overall quality of services for neglected and abused children is being obscured by the piecemeal way agencies are inspected.
'Narrow silos'
The warning comes as local government leaders and directors of council-run children's services meet in London to discuss how children can be better protected from sexual exploitation.
The LGA says it is concerned that without a major overhaul inspectorates will continue to work "in narrow silos, conducting separate inspections at the same time rather than adopting a fully multi-agency approach that assessed the contributions of all agencies together".
Instead all agencies should work together around the interests of the children and young people, and "the inspection of children's services must mirror this approach", it argues.
Cllr David Simmonds, chairman of the LGA's children and young people board said: "Keeping children safe is the most important thing that councils do - but we know we cannot do it alone.
"It is not fair to the children we are working to protect that Ofsted inspections only focus on council children's services, failing to properly assess the essential work done by other organisations."
Cllr Simmonds said it was only by agencies working together that child sexual exploitation could be eradicated and victims "given the confidence to come forward".
"We need scrutiny processes to adopt the same approach... so nothing falls through the cracks."
'Right experience'
Ofsted said it agreed that inspections should take into account all the different services involved.
A spokeswoman said the watchdog was evaluating recent pilots of integrated inspections with the Care Quality Commission and the criminal justice inspectorates - but warned that inspectors "with the right knowledge and experience" needed to take the lead in their own areas.
"Maximising the collaboration between inspectorates remains at the heart of how we believe we can continue to support improvement in the sector and contribute to sharing the best practice across all the agencies seeking to protect children from sexual exploitation and other forms of abuse and neglect."