Too many young people 'off the radar'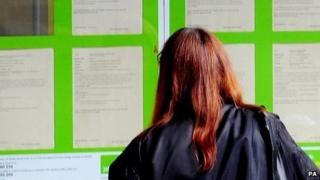 Too many youngsters in England fall "off the radar" when they leave school, the Public Accounts Committee has said.
The committee says local councils do not know what large numbers of 16- to 18-year-olds in their areas are doing and fail to give them adequate support.
The PAC is also critical of a lack of careers advice for young people.
The government said the rate of 16- to 18-year-olds who are not in education, employment or training (Neet) is at its lowest since consistent records began.
But in a report, the committee says 148,000 out of two million 16- to 18-year-olds in England are Neet.
It warns tens of thousands of these "simply disappear from all the relevant public systems".
The committee says there is a duty on local authorities to track 16- to 18-year-olds in their area, but some local authorities do not know whether young people are participating in education or training or not.
Nationally, 7% of young people's activity is unknown. In some local authorities the proportion is as high as 20%.
Careers and travel
The PAC report raises concerns that many local authorities do not help young people with the costs of travelling to school or college, saying this can lead to some young people being disadvantaged.
In 63 local authorities - where transport costs are relatively high - young people do not get help with these costs, creating a postcode lottery.
It also says careers advice is patchy across the country and most young people still do not receive the careers advice they need.
In 2010 the Department for Education (DfE) transferred responsibility for providing careers advice to schools "but did not give them additional resources to fund it".
The committee calls on the DfE to state what it would do if the careers advice offered by a school is found to be poor.
'Simply disappear'
Margaret Hodge, who chairs the PAC, said: "Too many young people simply disappear from all the relevant public systems.
"One hundred thousand plus young people are off the radar in that some local authorities do not know whether they are participating in education or training or not.
"If the activity of young people is unknown to the local authorities where they live, they are unlikely to receive targeted help."
But David Simmonds, chairman of the Local Government Association's Children and Young People Board, said councils had reduced the number of "unknown" 16- to-18-year-olds by 14% since 2012.
"To build on this success, councils urgently need more legal powers to ensure partners share vital information as quickly as possible," he said.
"Too often the challenging task of reducing teenage disengagement is made far more difficult when schools, colleges, job centres, national schemes and [the university admissions service] Ucas do not provide the information needed to identify those in need of help."
'World of work'
Many councils had dug deep to try to fund travel costs for young people to get to college, he added.
A Department for Education spokesman said: "Ensuring young people leave school or college prepared for life in modern Britain is a key part of our plan for education.
"That is why we are doing more to enable young people to access high quality advice and opportunities that will enable them to make informed decisions, in particular through the creation of the new careers and enterprise company.
"The new company will encourage greater collaboration between employers and schools, helping them access a wealth of experience to inspire young people across the country about the possibilities of the world of work."