Poor countries spend more on richer pupils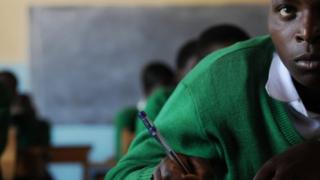 The poor are doubly disadvantaged in education in many low-income countries - with school budgets more likely to be targeted at better-off pupils, according to research from Unicef.
The United Nations children's charity says that almost half of education spending in low-income countries is focused on 10% of the population.
It means that poorer children in poor countries get the least chances.
Unicef is calling for a fairer distribution of education spending.
The study from the UN agency is being published in Davos at the World Economic Forum.
Unfair funding
It argues that investment in education must be more equitably shared, so that all types of pupils have access - including those who are most likely to miss out, such as poor, rural children, girls and ethnic minorities.
The research shows that low-income, developing countries disproportionately favour the educational needs of their wealthier families.
There is a global campaign to provide primary school places for 58 million children who are still missing out on school.
This is a particular problem in poorer countries in sub-Saharan Africa, but the study shows there can be very different experiences within those countries.
Wealthy, urban boys can often expect many more years in school than poor, rural girls.
The wealthiest 20% of pupils can receive 18 times more of public resources than the poorest 20%, says the report.
Unicef wants governments and donors to place a greater emphasis on making sure that "funds are utilised more efficiently and are distributed more equitably".
"We have known for a long time that education can break the cycle of persistent poverty and disadvantage for children, families and countries," said Yoka Brandt, Unicef deputy executive director.
"But to do this, governments and the private sector need to not only invest more, but also invest more wisely in education."
'Targeted interventions'
In a separate report, launched this week at the Education World Forum in London, Unicef and Unesco warned that there were 63 million young people, aged 12 to 15, who were denied access to education.
These figures suggested that there were 121 million children and teenagers who had either never started school or dropped out.
The report says the highest out-of-school rates are in Eritrea (66%) and Liberia (59%). Among teenagers, it says 58% of girls in Pakistan are missing out on school.
It also highlights the gap between how countries educate the rich and poor. In Nigeria, two-thirds of children from the poorest families are out of school and are unlikely to ever enter school. In contrast, only 5% of children from wealthier families in Nigeria are out of school and most of these are expected to start.
Unesco's director general, Irina Bokova, says: "Business-as-usual strategies, based on more teachers, more classrooms and more textbooks are not enough to reach the most disadvantaged children," she said. "We need targeted interventions."
Unesco has produced an interactive graphic to show how different groups are missing out on school.