Poor boys fare worse in rich areas, suggests research
By Judith Burns
Education reporter, BBC News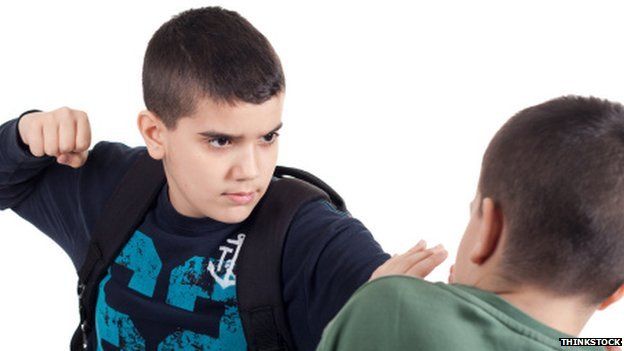 Behaviour of boys from poor homes is worse when they grow up with wealthier neighbours, suggests research.
By contrast, poor boys in "hard-pressed" areas had the lowest rates of antisocial behaviour, data on 1,600 children in England and Wales suggests.
Researchers led by psychologist Prof Candice Odgers of Duke University in the United States, followed the children from birth to the age of 12.
"These findings are troubling," said Prof Odgers.
"Our hope was that we would find economically mixed communities that allowed low-income children access to greater resources and the opportunity to thrive.
"Instead we found what appears to be the opposite effect."
The authors found that in economically mixed areas, poorer boys engaged in more antisocial behaviour - such as lying, cheating, swearing and fighting.
But disadvantaged boys living in areas where three-quarters of the population was poor had the lowest rates of such behaviour.
Poor boys' behaviour was worse in middle-income neighbourhoods and worse still in the wealthiest neighbourhoods.
The findings held true for boys from the ages of five to 12 - but the researchers found no sign of a similar effect on girls.
Prof Odgers said "relative position hypothesis" suggests children evaluate their social rank and self-worth based on comparisons with those around them.
So being poor may be more distressing to a child surrounded by others who are better-off.
The researchers drew on data from the Environmental Risk Longitudinal Twin Study, run by King's College London, which has tracked the development of a group of 2,232 children born in England and Wales in 1994 and 1995.
The study assessed the children's behaviour at the ages of five, seven, 10 and 12 using teacher reports and interviews with parents.
Prof Odgers, associate director of the Duke Center for Child and Family Policy, said the findings may throw doubt on the policy of promoting mixed-income neighbourhoods as a potential remedy for the toxic effects of poverty, including the increased risks of crime and delinquency.
The paper, published in the Journal of Child Psychology and Psychiatry, says mixed neighbourhoods enjoy broad support in Britain and are "a long-held and firmly established national policy", but are still relatively uncommon in the US, despite support from some policymakers there.
Supporters believe they are socially just and will help struggling families, giving them access to better schools and other services, say the authors.
But they warn that "from the perspective of a child from a low-income family, living alongside more affluent neighbours may not be an entirely positive experience.
"It is possible that children from low-income families may suffer ill-effects as they grow up in the shadow of peers who have more resources, social capital and perceived opportunities."
The authors say their findings mean policymakers should not assume poor children will automatically benefit from "growing up in the shadow of wealth".
Prof Odgers said the increasing divide between rich and poor made the findings particularly troubling.
"We are not saying that economically mixed communities are universally harmful, however additional care may need to be taken to ensure these communities achieve their intended outcomes for children."
Future research from the team will include an examination of the impact of mixed-income areas on educational achievement.
Related Internet Links
The BBC is not responsible for the content of external sites.