University applications hit record high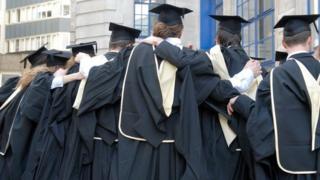 University applications have reached record levels, according to the Ucas admissions service.
These figures, showing applications for full-time courses starting in autumn 2015, show increases in England, Scotland, Wales and Northern Ireland.
More than 592,000 people have applied so far, up 2% compared with the same point last year.
Business Secretary Vince Cable said it showed the progress made "to break down barriers to higher education".
The figures show the numbers of applications submitted by the mid-January deadline - and they show rising numbers of 18- and 19-year-olds seeking places.
The complete picture will not be known until after exams have been taken in the summer, as students can still apply later, but it is the clearest indication so far of this year's applications.
Demand for full-time undergraduate places has risen across the UK - with 18-year-olds in Northern Ireland remaining the most likely to apply, followed by England, Scotland and Wales.
Gender gap
These figures are the latest evidence that applications have recovered after the introduction of tuition fees of up to £9,000 in England.
Within England there are substantial regional differences, with the gap between London and the rest of England getting even wider, with almost 44% of 18-year-olds in the capital applying for places, compared with 31% in the North East.
But the London figure remains below Northern Ireland, where 48% of those about to take their A-levels are applying. In Scotland, 32% are applying and 31% in Wales.
The gender gap is also growing, with women driving the increasing demand for places. In England, 35% of 18-year-olds are applying to university - but below this headline figure, 30% of men are applying and more than 40% of women.
But there has been a decline in applications from older students - those aged above 20. When the decline in mature students is combined with the gender differences, there are fewer men applying to university now than four years ago.
There has also been an increase in applications from European Union and overseas students, including from the United States.
Wealth gap narrowing
Applications from the most disadvantaged students have continued to rise and the gap in applications from rich and poor is narrowing - but the difference is still substantial. Among 18-year-olds, young people from wealthy families are two-point-four times more likely to apply compared with disadvantaged youngsters.
"It is heartening to see the gap between rich and poor continue to narrow," said Mary Curnock Cook, chief executive of the Ucas admissions service.
Megan Dunn, vice-president of the National Union of Students, said: "These figures only paint part of the picture. It's not surprising that students continue to apply for university when there are few alternative options available to them, like entry-level jobs or well-paid apprenticeships.
"We're still really concerned about the ongoing decline in the numbers of part-time students, which will have devastating long-term effects on the economy and in society more generally."
Pam Tatlow, chief executive of the Million+ group of new universities, welcomed the overall rising numbers, but warned of her "major concern" about the decline in mature students.
Vince Cable, whose Business, Innovation and Skills department is responsible for universities, said: "There were many who said that the reform of student finance would discourage young people from going to university. The opposite has occurred; numbers have grown, in particular those from disadvantaged backgrounds."