Schools damaged by lack of oversight, say MPs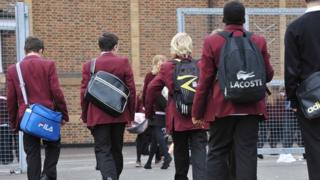 Problems in some schools in England are going undetected "until serious damage has been done", MPs say.
The Public Accounts Committee says a lack of oversight has "allowed some schools to fall through the gap" and failure to go "unnoticed".
The academy programme and fewer inspections for better schools have increased school autonomy.
The government has disagreed with the report, saying it "does not reflect the real picture in England's classrooms".
The Public Accounts Committee report, entitled School Oversight and Intervention, said the Department for Education (DfE) took a "light touch" approach to school oversight.
Its narrow focus, on exam results and Ofsted inspections, meant it had "not spotted important failures" in some areas until it was too late, it added.
For areas such as safeguarding, financial integrity and governance the DfE was "over-reliant on whistleblowers", MPs said.
They noted that educational performance in schools could change very quickly, and highlighted that Ofsted does not inspect outstanding schools at all, while good schools are inspected once every five years.
The report cited the case of two of the schools at the centre of the Trojan Horse allegations in Birmingham recently, which were rated outstanding and thus exempt from routine inspections but nevertheless ran into problems.
The government's academies and free schools programme - where schools are run by independent organisations but outside of local authority influence - aims to improve failing schools.
But the report said often a failing school will become part of a chain of academies run by one sponsor with a central management function.
Some chains had grown "too quickly without the necessary capacity and capability" the report said.
"It has currently 'paused' the growth of 18 sponsors because of concerns about their performance; these sponsors are currently educating almost 100,000 children," it added.
It noted that in September 2013, 179 open academies met the DfE's criteria for formal intervention, based on its own definition of failure (exam results and Ofsted rating). It should have intervened formally in all cases, but it only sent a warning notice to 15.
The Education Funding Agency also maintains a list of academies of national concern over financial management or governance issues.
It had issued financial notices to improve to four of these academies, as a result of fraud allegations or financial irregularity; but there were another seven which had been on the list for suspected fraud but had not received a financial notice to improve, the committee said.
Committee chairman Margaret Hodge said: "The Department for Education has focused on increasing schools' autonomy but it has done so without a proper strategy for overseeing the system.
"Confusion about the roles and responsibilities of the Department, the Education Funding Agency, local authorities and academy sponsors has allowed some schools to fall through gaps in the system, meaning failure can go unnoticed."
She added: "We hope that the Department will respond to our recommendations fully in order to reduce the likelihood of further unforeseen school scandals, like the 'Trojan horse' affair in Birmingham."
'Decades of neglect'
The Department for Education disagreed with the committee's assessment, saying it had a "strong oversight of schools".
"We have already intervened in more than 1,000 schools over the past four years; pairing them up with excellent sponsors to give pupils the best chances.
"That compares with the years and even decades of neglect many schools suffered under local authority control."
The DfE said there are 41 local authority schools that have been in special measures for more than 18 months, compared to just nine academies.
'Risks remain'
Shadow education secretary Tristram Hunt, said: "David Cameron's schools policy is harming the life chances of young people, as schools exposed to undue influence and falling standards are left to go unchecked.
"The events in schools in Birmingham reveal the weakness in government policy and the failure to prevent radical agendas playing out in our schools."
National Association of Head Teachers general secretary Russell Hobby said although significant steps had been made, there were still fundamental flaws.
"We operate in a highly autonomous and fragmented system. There is no substitute for strong local relationships which can spot troubles before they emerge. While we rely on an overstretched centralised inspection service and crude national league tables, risks remain."