University places demand 'cut by fees', says Labour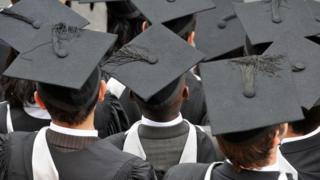 The demand for extra university places is much lower than forecast because of high tuition fees, says Labour's university spokesman, Liam Byrne.
An analysis of applications data suggests an increase of about 12,000 additional students rather than 60,000 as had been expected, says Mr Byrne.
Labour has still to confirm whether it wants to cut tuition fees from £9,000.
A Business, Innovation and Skills department spokesman said there is no "target" for extra places.
The figures on application statistics published by Labour are from the university admissions service Ucas.
Shortfall in demand
The analysis of application figures up to the January deadline suggests there will be an additional 12,000 students taking up places in autumn 2015, says Labour.
This year will see an expansion of places available and the government had previously anticipated demand for an extra 60,000 places.
"This huge shortfall shows how worried young people are about taking on university debt they now won't pay back until they are in their 50s," said Mr Byrne, the shadow universities minister.
There has been much speculation over whether Labour will promise to cut tuition fees from the maximum fees of £9,000 in England.
And Mr Byrne's comments suggest that he believes the current fees system is a deterrent to entering higher education.
Last week, Ucas published figures showing that applications from school leavers for full-time undergraduate courses had reached record levels.
Mr Cable, whose department is responsible for universities, said: "There were many who said that the reform of student finance would discourage young people from going to university. The opposite has occurred; numbers have grown, in particular those from disadvantaged backgrounds."
But Mr Byrne says that increase is less than might have been - with fear over excessive debt reducing the demand.
The figures from Ucas suggest that forecasts for the next few years need to be revised downwards - with "unmet demand" for university places among youngsters in the UK estimated to be "no more than 10,000-20,000, and likely fewer".
The previous estimates on those who might take advantage of extra places had been around 60,000 18- to 19-year-olds.
Ucas says that demand is influenced by factors such as fees and the availability of jobs, but that many students who miss out on places might also re-apply in subsequent years.
The suggestion that Labour could cut fees to £6,000 has drawn criticism from university leaders who say such a plan would be "implausible".
In a letter to the Times, Universities UK said this would create a £10bn hole in revenues over five years.
A Conservative party spokesman accused the Labour party of having "no idea how to pay for their plans for university funding".
"Unfunded spending commitments like these are a risk to our economic security and would lead to more borrowing and more taxes."
A spokesman for the Business, Innovation and Skills department said: "There is no target for the number of extra student places that can be taken up.
"In the 2013 Autumn Statement, the Chancellor removed the cap on the number of students that universities can recruit to help provide access to higher education for all hard-working students.
"However, the number of places taken up is entirely dependent on the choices of students and the recruitment process of each individual university.
"Ucas figures last week showed that students have not been put off higher education with a record level of applications for 2015-16, including a record rate from disadvantaged students."