More families appeal over autism provision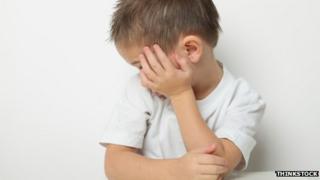 More parents of children with autism in England are taking legal action against their local authority, because they do not think their needs are being met.
The number of appeals lodged at special educational needs and disability tribunals rose by a third last year.
The National Autistic Society (NAS) says local councils "continually underestimate" the impact of autism.
The Local Government Association says recent changes to special educational needs assessments will reduce disputes.
Government figures show there was a 33% rise in the number of autism related appeals lodged at the special educational needs and disability tribunal (SEND) in 2013-2014, compared with the previous school year.
Parents of children with all types of special needs lodged a total of 4,069 appeals to the SEND tribunal system in England in the school year 2013-14, up from 3602 the year before, an increase of 13%. Of these, 1,633 were autism-related - up from 1,231 in 2012-13.
Recent changes
The NAS believes the figures are worrying, and might suggest local councils are using the tribunal process as a "rear-guard action" to protect shrinking budgets.
The Local Government Association said recent changes to the way special educational needs (SEN) are assessed should make it easier to resolve disagreements without parents having to go to court.
The Department for Education says councils must ensure all children, including those with autism, are educated in a place which meets their needs.
A DfE spokesman: "These findings are prior to our far-reaching reforms in the Children and Families Act came into force.
"The new law is designed to radically improve support for young people - and over time we expect this to reduce the number of complaints."
Dan Leighton, Policy Officer at the NAS, told BBC 5 Live Breakfast: "Getting the right support can be expensive, but it can make all the difference between a young person developing and flourishing, and their progress plummeting.
"Many parents tell us their life is turned into an ongoing battle with the school, or local authority. It's only the most tenacious that are able to make it through the system.
"The vast majority of cases are conceded by the local authority before they make it to tribunal. Of those that did go through last year, 83% were decided in favour of the parents."
'Utter relief'
Malcolm and Jane Howitt from Cumbria have been through two appeals over their 16-year-old son, who is profoundly autistic.
The family first went through a tribunal over specialist therapy in 2003 and were successful. They were scheduled to go to a second tribunal over a school place last autumn, but the local authority backed down a few days before.
The Howitts spent over £20,000 on fees for the two appeals.
"We knew we had the evidence to take to tribunal, which gave us strength", said Mrs Howitt.
"It was stressful, but you just keep going, knowing what you want for your child's needs. It was utter relief when we got what we wanted."
Cumbria County Council told the BBC that the number of appeals tribunals it was involved in over the past five years was almost half the national average.
But the authority acknowledges there were "specific gaps in provision for autism", and last year decided to invest heavily in developing new specialist provision.