Hunt promises plan against homophobic bullying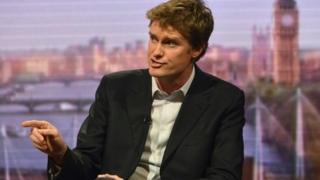 The Labour party has promised "zero tolerance" of homophobic language and bullying in England's schools if it wins the general election.
Shadow education secretary Tristram Hunt said he wanted to eradicate lesbian, gay, bisexual and transgender (LGBT) bullying in schools.
Mr Hunt said all new teachers must be trained to tackle homophobic bullying.
Education Secretary Nicky Morgan said tackling homophobic bullying was a priority for the government.
Launching the plan at a school in Ilford, east London, Mr Hunt said: "The presence of homophobic bullying in our classrooms, playgrounds and dinner halls is deeply troubling, and it is very real.
"The use of homophobic language and other forms of homophobic bullying is damaging the life chances of so many young people.
"It has a daily effect that limits learning, and causes people long-term damage.
"There is no place for it in our society - and never should it be ignored in our schools.
"Schools have a duty to show a zero-tolerance approach to the use of homophobic language and bullying."
Mr Hunt said that the persistence of homophobia in schools was part of the legacy of then Prime Minister Margaret Thatcher's Section 28 legislation in the 1980s, which barred local authorities and the schools they ran from "promoting" homosexuality.
Section 28 was repealed by the Labour party under Tony Blair.
"The legacy of Section 28 - a most pernicious piece of legislation - casts a shadow over our education system, both for those that are new to the school workforce and for those who worked in schools whilst it was in operation," said Mr Hunt.
"That is why repealing Section 28 alone is not enough. We need new training for new and long-standing teachers and others in the school workforce."
'Priority'
Education Secretary and Equalities Minister Nicky Morgan said the government had made tackling homophobic bullying a priority in the coalition agreement.
"Since then we've invested in projects to train more teachers on tackling homophobia in the classroom and set out clear guidance on the importance of tackling all types of bullying, including homophobic bullying," she said.
"We're pleased that teachers are now reporting lower rates of homophobic bullying compared to five years ago and greater confidence in tackling this bullying.
"Of course there is no room for complacency which is why we recently announced a £2m fund to support projects to combat this bullying in our schools and take us step closer towards our goal of eradicating this bullying from our classrooms."
'Devastating'
Hannah Kibirige, senior education officer at equal rights charity Stonewall, said: "Homophobic bullying and language are endemic in Britain's schools, with a devastating impact on young people's health, wellbeing and attainment.
"Through our work with more than 12,000 schools across the country, we know that teacher training is vital to tackling the problem.
"We have seen progress under this and the previous government, but more still needs to be done.
"We welcome this commitment and will be calling on future governments to ensure that every teacher is equipped to tackle homophobic bullying and that every young person can reach their full potential."
Figures compiled by Stonewall suggest there are about 215,000 lesbian, gay and bisexual pupils in England's schools.
Stonewall says homophobic bullying means, of these young people:
70,000 will suffer in their school work
52,000 will miss school
37,000 will change their educational plans
'Feel safe'
The plan was backed by actor Christian Condou, who played gay midwife Marcus Dent in Coronation Street.
Mr Condou said: "As a gay man, and as a parent, the tackling of homophobic bullying is obviously something that's extremely important to me.
"School is where I want my kids to feel safe, to be nurtured and cared for when I'm not there.
"We've made so many advances for LGBT people over the last few years, but I truly believe that prejudice is learned behaviour and therefore we need to address LGBT issues at an early age.
"The word 'gay' is still used as an insult in playgrounds across the country and the amount of young people still taking their own lives for being seen as different is quite distressing."