Labour pledges new 'kinship' rights to support children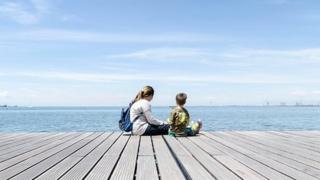 Children being brought up by family members other than their parents would be given priority in school admissions, if Labour wins the general election.
It is one of a series of measures being announced by shadow education secretary Tristram Hunt.
He will say Labour would offer new "kinship rights" to children being brought up by siblings or grandparents.
In the past the government has acknowledged that kinship carers often face enormous challenges.
It is estimated that between 200,000 and 300,000 children are currently in kinship care, where a family member or friend has stepped in to bring up a child because their parents cannot look after them.
Of those, around 4,700 who have a court-appointed "special guardian" would be given the same priority for school places as children in care.
Almost half kinship carers are looking after one or more children because of parental drug or alcohol abuse, and 28% as a result of physical abuse or neglect.
Over a third of children in kinship care have severe behavioural and emotional difficulties.
'Ties of love'
Mr Hunt will say that the country will only succeed if it supports "modern families" to cope with the "pressures of modern life".
"It means having the right support available for families when parents cannot look after their kids.
"It means recognising the ties of love which means other family members go to extraordinary lengths to provide care for vulnerable children and young people.
"And it means helping grandparents and other carers who are taking on the responsibility of a young relative and to ensure that vulnerable children are given access to great schools," he said.
Former Labour cabinet minister Alan Johnson, who was brought up by his sister as a child and is now a patron for Family Rights Group (FRG), says the country should do more to support the "extraordinary efforts" of kinship carers.
"It is absolutely right that the schools system should be geared up to provide children in kinship care with access to a great school," he said.
The measures have been described as "an important step forward" by the FRG, a charity which advises families whose children are in need, or are at risk, or are in care.
"Kinship carers go to enormous lengths, often at considerable personal cost, to care for children who cannot live with their parents, and have often previously suffered considerable trauma or tragedy," said Cathy Ashley, the FRG's chief executive.
"They do what is right by these children, and so should society."