'No conclusions' on Savile in schools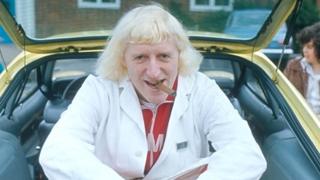 Investigations into possible abuse during visits to schools and children's homes by Jimmy Savile have been unable to reach any "firm conclusions".
Children's Minister Edward Timpson said despite "credible" informants, none of the 14 separate investigations had found sufficient evidence of abuse.
Mr Timpson said: "The lack of corroborating evidence prevented them from reaching a definitive conclusion."
The allegations related to visits by Savile in the 1960s to 1980s.
The Department for Education's report brings together a series of local investigations, carried out by local authorities, charities and schools, into possible abuse during visits by Savile.
'Dressing room'
But none of the investigations were able to produce "firm conclusions about whether the alleged abuse took place or not".
One allegation came from a boy, aged 10 or 11 at the time, who said he was abused by Savile after being invited into his dressing room at the BBC in the mid-1970s.
The boy in question was a resident at a children's home, St Leonard's, in Tower Hamlets, and files show he had previously been subjected to abuse at the home, the investigation said.
He said a group of children from the home had been taken on an outing to the BBC to form part of the audience of the TV show, Jim'll Fix It, when the alleged abuse happened.
The report said no evidence contradicting the alleged victim's claim had been gathered during the course of the investigation, and added that it was "probable that the abuse occurred as described".
Among the allegations investigated in the Leeds area were one children's home, two schools in the Leeds area and Leeds Children's Services.
The most serious were allegations pupils at Northways Residential School for children with behavioural difficulties had been taken on trips to see Savile at his nearby flat.
Fundraising visits
It was alleged this had been a reward for good behaviour, but the investigation found no evidence of any association between Savile and the school or of visits to his flat being used as a reward.
However, it acknowledged that two "vulnerable boys" who repeatedly absconded from the school could have visited Savile's flat of their own accord.
Allegations that Savile used to pick up young teenage girls from Notre Dame Grammar School in his Rolls Royce in the 1970s were also not substantiated.
Nottinghamshire City Council looked into an allegation of sexual assault by Savile from a female member of staff at Apsley Wood School.
This was said to have happened during a fundraising visit to the school for disabled children which is now closed.
'Formidable challenges'
But the alleged victim later told the council she did not want to participate further in the investigation, as she did not want to "re-awaken feelings of distress and discomfort".
The investigation could not corroborate her claim but it said: "At the time of the event - 1979 - there were no screening processes in place for any visits to school, safeguarding of children was virtually an unknown concept and there were no checks or vetting procedures in place".
Sevenoaks School examined allegations that during a visit to the school in 1978, Savile had been seen taking a boy into a car.
But when the individual was contacted, he said "nothing inappropriate happened or could possibly have happened".
Lucy Scott-Moncrieff, who provided independent oversight, reported that safeguarding practices had improved significantly in schools and children's homes since the time of the allegations.
"The risk of a paedophile having unrestricted access to children, as Savile apparently had, is now substantially reduced," the report said.
However, a report into an allegation of abuse by Savile at a children's home run by Southwark Council acknowledged the difficulty in investigating historical claims of this nature.
It said: "There are formidable challenges in obtaining information which might support or refute an allegation of this nature; challenges also in interpreting and understanding actions associated with this allegations in the light of practice at the time, as opposed to what is expected today."
And it noted that there are no documents to support the alleged victim's claim and that any potential witnesses named are dead.