Schools 'fail to stretch most able', says Ofsted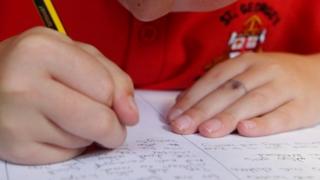 State secondary schools in England are not doing enough to stretch the most able students, Ofsted says.
A report from the education watchdog says gifted pupils are not keeping up with their clever counterparts in independent and grammar schools.
Children are not "realising their early promise", says Sean Harford, Ofsted's national director of schools.
But heads' leader Russell Hobby said it was "neither sensible nor accurate" to accuse schools of failing.
Inspectors looked at how well pupils who had been high-flyers at primary school made the transition into secondary school.
'Brightest students'
"While inspectors found pockets of excellence, too many of these children are not being challenged sufficiently - and thousands of highly performing primary pupils are not realising their early promise when they move to secondary school," said Mr Harford.
He said that Ofsted would "keep focusing sharply" on the progress of able pupils, including those from poorer backgrounds.
Mr Hobby, leader of the National Association of Head Teachers, said there had been so many changes imposed on secondary schools that the "system itself is getting in the way of success".
"It's neither sensible nor accurate to accuse secondary schools of failure," he said.
"We face an extended period of volatility. The cause of this volatility is the sheer scale and speed of changes to the examination system - changes to both the scoring of the exams themselves and to the way these scores are used to judge the performance of schools."
Sir Peter Lampl, chairman of the Sutton Trust education charity, said the report "demonstrates an urgent need for more dedicated provision for the highly able in state schools".
"Our research shows that England compares poorly with other countries in its provision for the highly able and our brightest students are failing to make the most of their talents," he said.
A Department for Education spokeswoman said: "We know that the best schools do stretch their pupils. They are the ones with a no-excuses culture that inspires every student to do their best.
"That is why we are replacing the discredited system which rewarded schools where the largest numbers of pupils scraped a C grade at GCSE.
"Instead we are moving to a new system which encourages high-achievers to get the highest grades possible while also recognising schools which push those who find exams harder."
But Labour's shadow education secretary Tristram Hunt said: "Young people, especially those from low and middle income backgrounds, are all too often not given the challenge and support that they need to fulfil their potential.
"International research shows we perform badly in helping the most gifted pupils.
"We're going to do something about that. Labour will establish a Gifted and Talented Fund to equip schools with the most effective strategies for stretching their most able pupils."