Clever girls lack confidence in science and maths
By Sean Coughlan
Education correspondent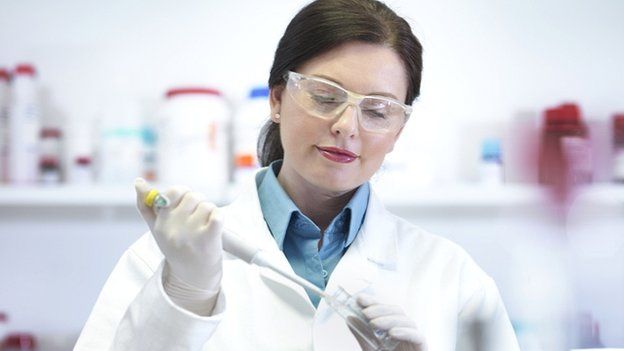 Girls still lack confidence in pursuing high-paid careers in science and technology, even when their school results are as good or better than boys, says an international study.
The OECD has examined why girls' academic success does not translate into an economic advantage in work.
It found that career choices explain why women in developed countries are on average earning 15% less than men.
The OECD's Andreas Schleicher called for schools to raise girls' confidence.
The study from the economic think-tank, using data from international Pisa tests in more than 60 countries in 2012, asks why girls' increasing success in education has not been followed by similar advantages in the labour market.
Mr Schleicher, the OECD's education director, argues that it is not "about men and women doing similar work for different pay, but about men and women pursuing different careers".
UK teenagers' confidence in maths
I often worry it will be difficult in maths classes: boys 39%; girls 56%
Nervous doing maths problems: boys 20%; girls 33%
I worry I will get poor marks in maths: boys 49%; girls 66%
In particular, he says women are still "severely under-represented" in jobs related to science, technology, engineering and mathematics, which can be among the highest earning careers.
He says that "gender differences in self-confidence" could be the key difference. Even though girls might achieve better academic results, there is still a reluctance to apply for jobs.
There were also findings that parents were more likely to push boys towards careers in science and technology.
"We may have lost sight of important social and emotional dimensions of learning that may be far more predictive for the future life choices of children," said Mr Schleicher.
In Pisa tests taken in the UK, girls did particularly badly in science compared with boys, with a much bigger gap than most countries.
But Michael Reiss, professor of science education at the UCL Institute of Education, said: "This is nothing to do with genetics. The explanation must be a cultural one."
Jonathan Osborne, professor of science education at Stanford University in the United States, also said there were no inherent differences in academic abilities between boys and girls and the "shocking disparities" in results must be "entirely cultural".
And in last summer's GCSE results, girls outperformed boys in the number of A* to C grades in sciences.
There has been a major long-term international trend towards girls getting better results in school, and young women being more likely to go to university than young men.
Below this broad trend there are other contrasting patterns.
The very lowest achieving pupils in maths, reading and science are much more likely to be boys and these male underachievers are much more likely to leave school early and end up without any qualifications.
Lowest achievers more likely to be boys
Boys more likely to be very highest achievers in maths and science
Teachers give girls higher marks than boys of a similar ability
Boys far behind girls at reading while at school, but gap closes among adults
Girls less likely to consider careers in maths and science
Boys are more likely to spend time playing videogames than girls and are less likely to spend time on homework.
But boys are also likely to be more prevalent among the highest achievers at maths and science.
Even when girls are matching boys in these subjects there still seems to be a reluctance for girls to progress to a higher level in maths or science or to consider it as a way into a job.
Across the OECD countries, among pupils of a similar ability, boys are four times as likely to consider careers such as computing or engineering.
There are also questions about the balance between achievement in school and natural ability.
The study shows teachers are likely to give girls higher marks than boys of a similar ability. The suggestion is because girls are more likely to be better behaved in class, they are seen as being better at the subject and their results are marked up.
And even though girls are seen as much better at reading than boys at school, this gap closes in the years after school, so much so that by the end of their twenties there is virtually no difference.
Mr Schleicher says that the big long-term international picture shows that improvement in girls' educational attainment across the past 50 years, overtaking boys, has been a major factor in driving economic growth in developed countries.
But individual women have not necessarily gained the economic benefit.
A spokesman for the Department for Education in England said there were plans to invest £67m to attract science, technology, engineering and maths (STEM) graduates into teaching and the department was backing a campaign to show girls the "exciting opportunities" from science subjects.
"This approach has helped ensure 10,000 more girls are now studying STEM A-levels than in 2010 and last year as many girls as boys achieved grade C and above in science GCSEs."