School Report Radio Festival shows sound in different light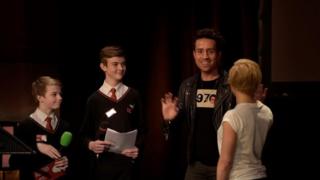 Students in blindfolds learned the power of sound during School Report's first ever radio festival.
Other sessions included contributions by BBC Radio 1 Breakfast Show presenter Nick Grimshaw and YouTube star Jim Chapman.
The festival was the main event on School Report News Day, which involved more than 1,000 schools.
"When I hear the radio I can picture images in my mind," said Joe, a School Reporter from Spires Academy in Kent.
Schools from Bradford to Westminster sent delegates to the festival at the BBC's Radio Theatre in Broadcasting House, central London.
Radio archive
Radio 1's Chi Chi Izundu ran a session demonstrating how radio can take listeners to places they have never been and be a lifeline in times of need.
The session included contributions from National Prison Radio and from BBC Media Action, who have been using radio to spread vital health information on Ebola in Sierra Leone.
Students from Bath Community College wore blindfolds to listen to radio archives including sports commentary and a mouse in the studio.
They were then asked to choose which sound had the strongest impact.
Another session started with a trip back in time as the London Blitz of World War Two was recreated in the Radio Theatre.
Radio 4's Paddy O'Connell and his School Report co-presenters Harry and Megan, from Bartley Green School in Birmingham, focused on how politicians use radio.
School Reporters, who, at 11 to 16, are too young to vote this May - but the session asked whether they would vote if they could.
Other speakers included parliamentary candidates Uma Kumaran and Will Blair, as well as BBC journalist Robert Peston who founded the charity Speakers4Schools, which sends prominent journalists and politicians to give talks in schools.
In the third session Chi Chi Izundu was joined by students Maryam and Robyn, from Prospect School in Reading.
The audience watched in amazement as a foley artist created live sound effects.
"I believed that there was a clip displaying the sounds, so it is amazing how our ears could deceive us," said Josh from Spires Academy.
'Happy' farewell
This session also looked ahead to which direction radio was going and how it was becoming more visual.
YouTube vlogger Jim Chapman answered questions about his work, while BBC Radio 1 boss Ben Cooper, heard how School Reporters thought his stations could be improved.
The day finished with a School Report Newsbeat bulletin and a soundscape of the day, recorded and edited by students.
The SPARK Choir, from the Ark Schools Network, sang the festival out with a rendition of the Pharrell Williams hit "Happy".
School Reporter Joe said he had been inspired to get more involved in radio.
"I thought the radio was just about news and weather, but now I have been to the BBC it is not just your average weather man or news. All ages can contribute with the BBC to improve it."
Overall, more than 30,000 students took part in News Day with classrooms turned into newsrooms across the UK.