Student tuition fee posters removed from stations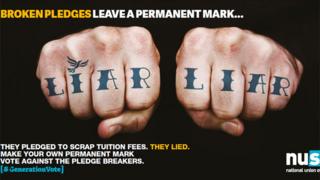 Student posters calling MPs who failed to oppose tuition fee rises "liars" have been removed from railway stations in England.
Network Rail bosses deemed the National Union of Students (NUS) posters "political" and ordered them to be taken down.
The posters in London, Manchester and Sheffield were aimed at about 30 MPs who the NUS says broke their promises.
The Liberal Democrats say the current system is fairer than under Labour.
NUS president Toni Pearce said the campaign would continue.
'No political activity'
A spokesman for Network Rail said no political activity of any kind was allowed on railway stations, including campaigning by candidates and political posters.
But Ms Pearce said this felt like a "mass gagging attempt on students".
"You can delete a billboard image but you can't erase betrayal. There are a fleet of vans travelling the country right now targeting pledge-breaker seats across the country, and will do until 8 May.
"Lies were told. Seats were secured because of them, and we just won't tolerate it."
The station posters were put up on Thursday, but were removed after railway bosses intervened.
The advertisements with the slogan "liar, liar" are aimed at the MPs who, the NUS says, failed to keep their 2010 pre-election pledge to oppose fee increases for universities in England. Most of those being targeted are Liberal Democrats.
"We won't let them trade lies for power again," said Ms Pearce.
The coalition government's decision to raise tuition fees in England to a maximum of £9,000 provoked a series of sometimes violent student protests.
'Apology'
In the current election campaign, the NUS is seeking to mobilise the student vote against MPs who had promised to oppose higher fees but then voted to almost treble them.
The campaign is aimed at 28 Liberal Democrats, including Nick Clegg, David Laws and Vince Cable. Two Conservative MPs are also accused by the NUS of failing to keep a promise to oppose the increase.
Another 21 Liberal Democrat MPs kept their pledge to vote against the rise.
Labour has promised to cut tuition fees to £6,000 per year, while the Conservatives want to lift the cap on undergraduate university places and have called for more value for money for students.
Some university leaders have been critical of proposals to cut fees, arguing higher fees have not deterred poorer students.
Policy guide: Education
This election issue includes funding for schools, university tuition fees and early years education.
University applications dipped when fees were increased, but have since recovered to record levels, with more disadvantaged students applying than when fees were lower.
Last week, a Liberal Democrat spokesman said: "There will be some people who will judge us for one thing we could not do. But many fair-minded people will judge us by what we have been able to do: tax cuts for millions of working people; more money for poor children in schools; a record two million apprentices; equal marriage; shared parental leave."
In a statement Network Rail said: "As a politically neutral organisation, we do not allow political activity on our stations and this applies to any forms of advertising or campaigning.
"In this instance it's clear that an error has been made, as the poster should not have been approved for use in our stations.
"We will be apologising to the NUS for the misunderstanding and will ensure that they do not have to pay for the display."