Wilshaw backs academy takeovers of coasting schools
By Branwen Jeffreys
Education editor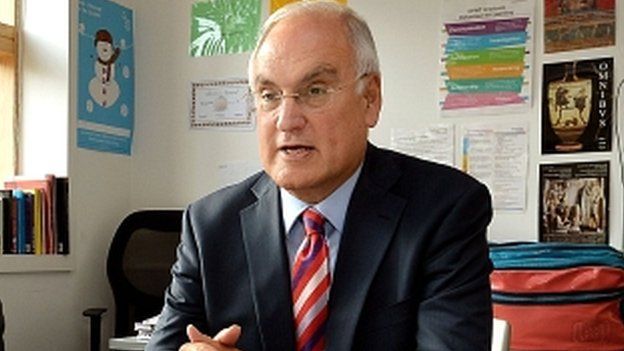 Head teachers at underperforming schools in England should be replaced, says the chief inspector of schools.
Sir Michael Wilshaw said too many children were having their life chances limited.
An education bill expected in the Queen's Speech later includes powers to force some underperforming schools to become academies.
But Sir Michael, head of the Ofsted education watchdog, said it could be hard to find enough outstanding heads.
Sir Michael, back at work after an operation, has waded back into the debate about standards in England's schools.
In his first interview since his return, the Ofsted boss gave his unequivocal backing to government plans to intervene in schools consistently rated less than good.
He has long argued there is an unacceptable variation in standards in different parts of the country, and said the success of London and other cities showed improvement could happen in deprived areas.
While he would not be drawn on what exactly should trigger intervention in schools, he said the principle of such takeovers had his full backing.
"Why should a child in London, or parts of Liverpool or Newcastle have a better chance of going to a good school than a child in Suffolk or Norfolk?"
But head teachers' unions have warned the new powers expected in the education bill could act as a deterrent for recruitment.
If the perception is that a head teacher will only have a short time frame to improve a struggling school, few may want to take up the challenge, they argue.
At a time when some schools are struggling to find leaders there is also a question about whether there are enough experienced head teachers.
Sir Michael says this is the greatest challenge to improvement.
"The big question for the government is scale, given that we have 30% of schools that are less than good. Have we got enough really good head teachers who can take over those schools in federations and clusters?"
Sir Michael said more outstanding leaders were coming through the system but there needed to be more strategic thinking about how to spread those skills across England.
This suggests a challenge to create a stronger role for the National College of Teaching and Leadership.
The government has argued that the greater autonomy of being an academy school, or part of an academy chain of schools, leads to improvement.
But Sir Michael accepts that academies can also struggle, and some have failed, and Ofsted would back interventions in any school, including academies or free schools that are regarded as "coasting".
Education Secretary Nicky Morgan has framed the new powers in a more conciliatory fashion.
She has said schools will be offered help to improve first, before existing head teachers are replaced by an academy chain.