Safer Internet Day: Young ignore 'social media age limit'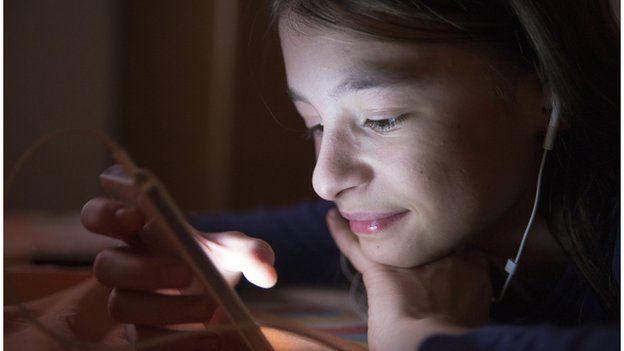 More than three-quarters of children aged 10 to 12 in the UK have social media accounts, even though they are below the age limit, a survey for CBBC Newsround suggests.
The study, marking this year's Safer Internet Day, also suggests more than one in five has faced online bullying.
The global event encourages "safe and responsible" use of the internet.
Social media network Instagram said if anyone suspected accounts were run by under-13s, they should report them.
The Comres survey for Newsround, based on 1,200 young people aged between 10 and 18, found social media to be an important part of everyday life.
Among 13- to 18-year-olds, 96% were signed up to social media networks such as Facebook, Instagram, Snapchat and Whatsapp.
Among under-13s, 78% were using at least one social media network, despite being below the age requirement.
Analysis by Leo Kelion, BBC News technology desk editor
The reason that most social media platforms have set 13 years as their cut-off point is a US law called Coppa (Children's Online Privacy Protection Act), which dates back to 1998.
It mandated that online services would have to seek "verifiable parental consent" from younger users and would then be restricted as to how they could use the data.
Many apps subsequently decided it would not be worth their while.
Some, like Facebook, Ask.fm and Kik simply bring up refusal messages if a user types in an underage date.
Others, like Yahoo, allow a child to set up an account but then refuse them access to subsidiary services - such as Flickr's photo pages.
And some, including Twitter and Instagram, ban under-13s, but never actually ask the user to confirm their birth date.
Whatsapp is unusual in setting its age limit at 16 years.
But in any case, it's easy enough for a child to lie, and proof of ID is rarely sought.
Some child safety campaigners want apps to be forced to adopt more rigorous checks.
But the GSMA - which represents mobile operators - says other alternatives would be for apps to pose challenging questions to catch out underage users, and to only give people one chance to type in a qualifying date of birth rather than multiple attempts.
Facebook was the most popular with under-13s, with 49% claiming to be users.
Instagram was used by 41% of 10 to 12 year olds and the company said "keeping the community safe" online was its "number one priority"
"We require anyone on Instagram to be over the age of 13, and we have clear community guidelines and in-app tools to help people report anything that may make them feel uncomfortable," said a spokesman.
Most of the experiences of users were positive, but particularly for older children, online networks could be used for more destructive purposes.
Among 16 to 18 year olds, two in five had used social media to spread gossip and a quarter had used it to say something "unkind" or "rude" to someone else online.
More than half of these older children had seen online bullying.
The Safer Internet Day, backed by technology firms and the government, commissioned its own survey of 13 to 18 year olds, and found that more than four in five had seen "online hate", such as offensive or threatening language.
More than two-thirds of young people knew they could report such offensive language, but in practice, people were much more likely to ignore it.
Hannah Broadbent, from the UK Safer Internet Centre, told the BBC: "It's so important that we show children what other things they can do using digital technology that are engaging, creative and age-appropriate.
"It's about showing them what else it could be and inspiring them with that."
Google is marking Safer Internet Day by launching an online safety roadshow, which aims to reach 10,000 primary school children this year.
Eileen Naughton, Google UK's managing director, said: "The internet is a great place for education, creativity and entertainment, but we know kids need the right skills to navigate the web and stay safe online."