'Useless' bureaucracy hitting teacher morale - union
By Judith Burns
Education reporter in Liverpool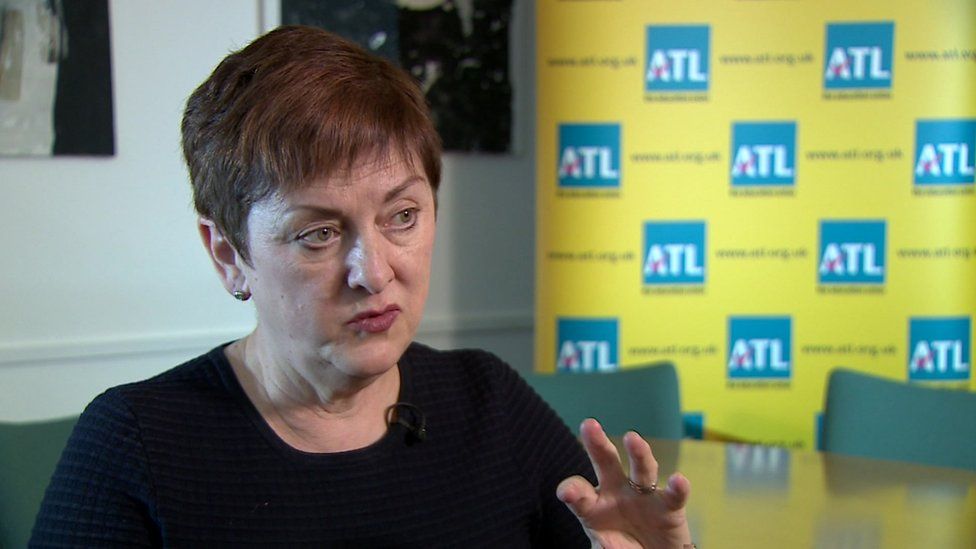 Too much of teachers' time is taken up by "mind-numbingly useless" bureaucracy which saps staff morale and fuels the staffing crisis, says a union leader.
The emphasis on data in England's schools does nothing to boost learning, said Association of Teachers and Lecturers leader Mary Bousted.
Dr Bousted called on the government to cut this workload to make teaching a more attractive profession.
Ministers have promised measures to ease the paperwork burden on teachers.
"The average working week for a teacher is now 60 hours and that average includes the school holidays. So in term time teachers are working excessive hours," Dr Bousted told the BBC ahead of the ATL conference in Liverpool.
"And the problem is so much of what they're doing isn't related to effective teaching and learning.
"It's just bureaucratic paper filling, data driven, mind-numbingly useless work they're doing for accountability purposes rather than raising standards of teaching and learning."
Dr Bousted urged the government to implement the findings of three reports on teacher workload in England which it published over the Easter weekend.
She warned: "If teachers have no time to relax, no time to recover from what is a very demanding job, then they are leaving the profession.
"Unless we do something about this workload problem then there aren't going to be teachers to teach children."
Education Secretary Nicky Morgan has accepted the findings of the three reports which urge reductions in the time teachers spend on marking, lesson planning and data collection.
Mrs Morgan said she agreed "nothing is more damaging to the profession than wasting the passion and expertise of teachers and school leaders on unnecessary tasks".
Her announcement, over Easter, came as the National Union of Teachers annual conference called for "sustained strike action" over workload.
A survey of 876 ATL members revealed the following views:
93% of respondents said they thought the excessive workload might stop people wanting to join the profession
91% said poor work-life balance put off new joiners while 64% suggested lack of respect for teaching
83% of people replying said they had considered leaving the profession - with nine out of 10 of those saying it was down to workload
74% said teacher shortages also contributed to their increased amount of work
55% said a reduction in the amount of paperwork would improve their jobs
94% of respondents were in England with the remaining 6% in other parts of the UK
"The government needs to sit up and take responsibility for the recruitment crisis," said a primary teacher from Suffolk.
"Policies come in and then go out and we are left focusing on paperwork not the children," said an academy teacher from Wiltshire.
A London head of department said: "My partner is a solicitor in the City. I shouldn't feel like I have less free time than him, he is on three times my pay!"
Dr Bousted urged the government "to accept we are facing a crisis and put credible measures in place that will produce systemic change".
A Department for Education spokesman said the government wanted to work with teachers to improve the status of the profession.
"We will always listen to the concerns of the sector and only last week accepted in full the recommendations of three sector led workgroups that will help schools bring about real change, such as drastically cutting down the data they collect and ending the duplication of tasks."
Related Internet Links
The BBC is not responsible for the content of external sites.