Record numbers get university places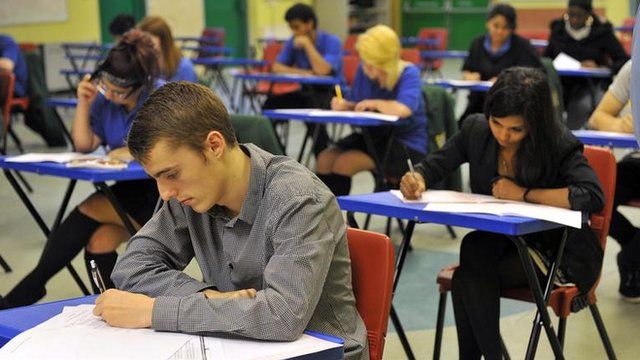 A record number of students have gained UK university places on the day that A-level results are being revealed.
The Ucas admissions service says that 424,000 students will be offered places in UK universities, up 3% on last year.
There are expected to be more university places available through clearing this year, with suggestions of a "buyer's market".
There have been forecasts that overall A-level results will be similar to last year.
Hundreds of thousands of teenagers in England, Wales and Northern Ireland are finding out their A-level results on Thursday. Pupils in Scotland have already received their exam results.
However, hundreds of pupils already know if they have been successful after a computer error leaked the results of their university applications.
A small number of universities accidentally sent out acceptances or rejections a day early, with the admissions service blaming automated computer systems.
Prof Alan Smithers, director of the Centre for Education and Employment Research at Buckingham University, has forecast that overall results will be similar to last year.
In 2015, there was a slight fall in A* and A grades awarded, down to 25.9% of entries. But the proportion of passes rose by 0.1 percentage points to 98.1%.
Teachers and head teachers' leaders have warned that, below the surface of this stability, individual schools and pupils could face more unpredictable outcomes.
"Students and their teachers are bracing themselves for greater volatility in this year's results," said Ms Keates, leader of the NASUWT teachers' union.
She said that schools had to contend with new content in AS and A-levels.
Head teachers' leader Russell Hobby forecast "significant variation" and unexpected results, behind the picture given by the national statistics.
"For individual students, teachers and schools this is a real concern," said Mr Hobby.
For those students who miss out on required grades for university, there are expected to be more opportunities available through the clearing system.
This will include leading universities within the Russell Group, which have signalled that they expect to have places on offer.
There is a demographic dip in the number of 18-year-olds and the removal of any limit on student numbers means that universities could be competing to attract students to fill places.
London South Bank University is going to run a 36-hours non-stop clearing service, remaining open all night for inquiries from students.
But students starting at England's universities in the autumn could face higher fees than the previous cap of £9,000 before they finish.
There will also be opportunities for those not going to university, with financial services firm PwC announcing that it has had a 20% increase in two years in recruiting directly from those leaving school with A-levels.
And a study from the Social Market Foundation, also released on results day, shows that vocational qualifications are an increasingly common route into university, often in combination with A-levels.
A Department for Education spokeswoman said: "A-level results day is the culmination of months of hard work for students and teachers and everyone involved deserves credit.
"Our exam and curriculum reforms will build on those achievements and ensure pupils have the knowledge and skills that will help them secure a university place, apprenticeships or a great job."
Are you waiting for your A-level results? How did you get on and what are your plans for the future? You can share your reaction and experiences by emailing haveyoursay@bbc.co.uk.
Please include a contact number if you are willing to speak to a BBC journalist. You can also contact us in the following ways: