London 'to get 12,000 affordable homes'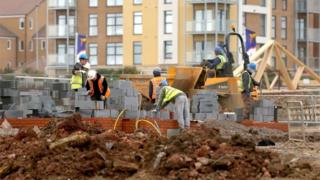 A £8bn partnership with one of London's largest housing associations to build 20,000 new homes across the capital has been announced by mayor Sadiq Khan.
City Hall will contribute £400m towards the partnership, which is expected to see 12,000 affordable houses built.
It comes five months after the mayor secured £3.15bn from the government to build affordable homes in London.
The mayor said that money would see the building of 90,000 new affordable homes started by 2021.
The partnership with L&Q is the first of its kind between City Hall and a housing association.
City Hall said it expected about a third of the affordable homes - about 4,000 - would be for low rent tenants, similar to social rent.
The remainder - 8,000 - would be a mixture of London Living Rent homes with rents based on a third of market rents and shared ownership.
One of the first sites that will see more affordable homes will be in Barking, a City Hall spokesman said, Other sites around London are still being identified.
Mr Khan, said: "For far too long, London has not been building enough homes. This has meant that Londoners born and raised in our great capital have struggled to rent and stood little or no chance of owning a home in their own city.
"I urge other housing associations to work with us to get on and build the homes London needs."