Is this the start of a return for the teaching unions?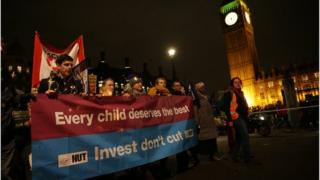 Something is happening in English education: the teaching unions are coming back into the frame. After years in the wilderness, a new teaching super-union could make them matter again.
The teaching unions have long inhabited a strange world. They have big memberships: the National Union of Teachers has 330,000 full members, while the National Association of Schoolmasters/Union of Women Teachers has 285,000. More than half of teachers are signed up to one union or another. But they have, for some decades, failed to punch their weight.
This is, in part, because of a deliberate decision by a Conservative government to remove their biggest lever. Collective bargaining for teachers was stopped by Kenneth Baker, then education secretary, in the late 1980s. As a result, slowly at first, the NUT and NASUWT, in particular, started to lose focus. Who runs the unions matters less to their members than it did.
Teachers still join up as an insurance measure, but are not very engaged with the leadership. The consequence is that the internal democracy of the two big teaching unions is torpid. That limited engagement by members has allowed the two big unions to drift. They have let themselves be painted (not always unfairly) as defenders of bad teaching.
There is also a problem with what the unions refer to as a lack of "professional unity". There are two teachers' unions in addition to the NUT and NASUWT. In addition, a further two unions serve head teachers while Unison represents lots of teaching assistants. Governments do not divide and conquer the education unions. They start out that way.
These factors, together, explain a lot of why the teaching unions have faced decades of defeats. Michael Gove, who served as education secretary during the coalition, seem to imply he was under siege from them. But, for all their anger, the unions did not manage to stop anything he proposed.
Something, though, is afoot.
Changes at the top and bottom
First, the NUT elected Kevin Courtney as general secretary last summer. Mr Courtney's background is on the left of the union, but I keep hearing plaudits from leaders from the opposite wing of the union. That is not something you often hear said of union leaders. The genial Welshman has been winning over sceptics, even if they do not agree with his politics.
School cuts are in the news today, but if you have heard about them before in recent weeks, it is probably because the NUT has been running an extraordinarily successful campaign on the topic. I cannot remember a campaign as effective in recent years by any union. They are getting a clear message across to ordinary voters and all the UK-wide parties have all responded to it with financial pledges.
Second, the NUT is merging with the littler Association of Teachers and Lecturers and its 123,000 members. The new "National Education Union" will take on the ATL's general secretary as a co-general secretary. That is also no small thing: Mary Bousted is a formidable performer and will now have a bigger platform from which to work.
But the ATL will also import a large slug of politically centrist teachers (including a lot of private school teachers) along with a fresh battalion of activists into the NEU. Lots of ATL members voted for the merger, but are keen to put up a fight to avoid being subsumed into the new super-union.
Whoever wins, that fight will surely be good news for members. Fewer uncontested elections would be healthy. The merger of the two unions' traditions could also be interesting. To caricature them both, the ATL is spikey about protecting the image of teachers as well-educated professionals in corduroy while the NUT is much keener on placard-waving.
We talk a lot about competition between schools - but the NEU also raises uncomfortable questions for the leadership of the NASUWT. They will need to respond if they are to keep recruiting. Or, if they can't beat 'em, join 'em. It is early days. Don't count any chickens. But I will be keeping more of an eye on the teachers' labour movement.