Ending the dream of graduating university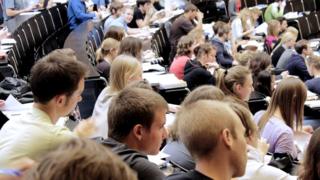 Official data from the Office of Fair Access shows the proportion of students from disadvantaged backgrounds dropping out of university has reached its highest level for five years.
One student who chose not to complete his university degree is Michael, who was studying film and media at Manchester Metropolitan University.
"I grew up in a working-class family shrouded in abuse and alcoholism and we often found ourselves living below the poverty line," he says.
"When I started university I had hoped for a fresh start and for some social progression where I could escape the troubles and toils that had plagued me so far in life."
Michael started university in 2012, the year in which tuition fees nearly tripled from £3,290 per year to an upper tier of £9,000 if universities ensured access for poorer students.
He was living in a council house with his mother who was suffering from severe depression and his younger brother who had just been expelled from school.
Michael says funds from a student loan contributed to supporting his family, paying household bills and purchasing groceries.
Persistence
It was during his second year at university that he struggled both financially and with his mother's mental health.
"While still attending university, my mum unfortunately attempted to commit suicide and was sent to recover and rehabilitate in a hospital in Newcastle.
"This left me with primary care of my younger brother, who could only be described as a bit of a trouble-maker.
"My mum's family turned against me and my brother, blaming the incident with my mum on the stress we had apparently caused her.
"This left me with no real support network outside of close friends and my long-term girlfriend.
"I persisted and managed to pass my first year. Along the way, I won an award for having the best work for one of the year's final projects."
---
You might also like:
London fire: 'We can accept death but not being burnt alive'
Paddington: Sharing childhood bears for Michael Bond
'Wonder Woman shows I can be a (good) trouble-maker'
---
Michael decided to move out of his family home and closer to the city centre with a friend.
"I found a part-time job and was looking forward to starting a new chapter of my life. Things were going well until my partner and I unfortunately separated.
"I relied too much on student finance and my family had moved into a smaller council house, where my Mum slept on the settee to give my younger brothers a bedroom each."
'The whole system needs reform'
In July 2015 universities called for the cap on tuition fees in England to be lifted so that they could rise above the £9,000 per year limit.
At the end of 2016 he could no longer cope with the stress of studying with little money and decided to drop out of university.
"Since I was a child I had loved education and graduating from university had been one of my most sought after dreams.
"Rent should be covered in its entirety for impoverished students who dream of a better life and I believe that the fees are laughable and should be abolished in their entirety.
"I paid £9,000 every year I attended to be read from PowerPoint presentations verbatim in a class of 40 plus. The whole system needs reform."
Role model
Michael, whose family do not know that he dropped out, sees himself as a role model to his brother and would like him to attend university.
"My brother is 14, he is fantastic at maths and IT and would love to pursue a career in IT.
"I'm not sure he'd admit it, but I think he does see me as the only role model in the family and he loves education and would love to attend university."
Since leaving full-time studying, Michael has been working on building an online portfolio in design for a job in web or graphic design.
By Wais Bashir, UGC and Social News team