Schools break law on religious education, research suggests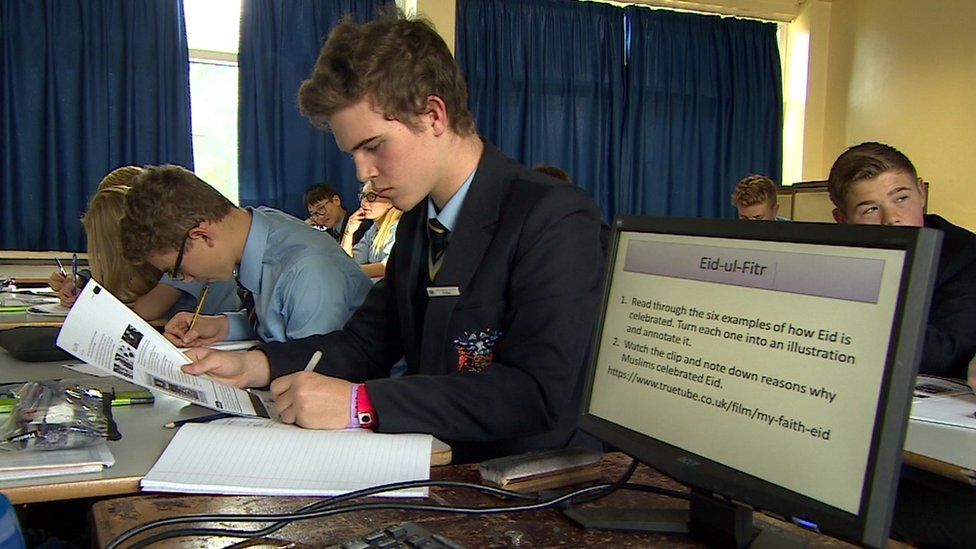 More than a quarter of England's secondary schools do not offer religious education, despite the law saying they must, suggests research given to BBC local radio.
It says that missing the subject leaves pupils unprepared for modern life.
But the main union for secondary head teachers said many schools covered religious issues in other lessons.
"They might be teaching through conferences, they might be using citizenship lessons, they might be using assemblies," said Geoff Barton, general secretary of the Association of School and College Leaders.
By law, RE must be taught by all state-funded schools in England, with detailed syllabuses agreed locally.
NATRE says the FOI data, gathered by the Department for Education in 2015 but not published until now, showed that, overall, 26% of secondaries were not offering RE lessons.
Among academies, which make up the majority of secondary schools, more than a third (34%) were not offering RE to 11 to 13-year-olds and almost half (44%) were not offering it to 14 to 16-year-olds.
As more schools become academies, the problem could escalate, NATRE warns.
As part of a GCSE in RE, students have been studying religious festivals and teacher Joe Kinnaird believes the subject is vital.
"RE in schools provides the best and the perfect opportunity to explore those issues which students see in in the wider world," he said.
"RE and philosophy provide students the chance to explore fundamental questions such as what happens after we die, does God exist, how do we cope with the problem of evil?
"These questions are both philosophical and ethical and the RE classroom is where we can explore these issues."
His pupils agree, with one, Lisa, saying: "Not being religious myself, I think it's really interesting to learn about other religions, other cultures, I feel like it can be vital in life to understand other religions."
Her classmate, Benjamin, said that not being taught about religion could result in people being "heavily influenced by what they find on social media".
Fellow pupil Luke added: "Once you're educated about a certain religion you actually know the true meanings of it.
While for Nicole, better religious education could help cut the number of racially and culturally motivated crimes.
"Religion affects politics, so you have to think of it that way. It's really important to know the diverse cultural traditions of other people because it's really relevant today," she said.
Fiona Moss of NATRE said too many schools were "breaking the law", resulting in pupils "missing out on religious education".
"It means they are not religiously literate," she said.
"They don't have the opportunity to learn about religions and beliefs, to learn what's important to people or to have the chance to develop their own ideas, beliefs and values.
"It's going to be important for them to understand what people believe they think and what encourages them to behave in the particular ways that they do.
"We're not teaching people to be religious. We're teaching children about religions and beliefs that exist in this country.
"You don't only teach geography to children who are going to be world explorers."
Ms Moss said the data showed a shortage of specialist RE teachers throughout the state system.
"If you are an academy, there's a freedom about how you can teach RE and I think some schools struggle with that freedom and think they don't have to be as committed to RE.
"They're under financial pressures and maybe this is an easy loss."
But Mr Barton called the idea that schools were deliberately breaking the law "a real oversimplification".
"It might result from the report trying to find a very traditional delivery model of RE. Or it could be that they find it hard to recruit an RE teacher, for example, and most head teachers would agree they'd prefer to have provision which is better quality, taught by other people in different ways, if they can't get specialist staff."
A Department for Education spokesman said the government firmly believed in the subject's importance.
"Good quality RE can develop children's knowledge of the values and traditions of Britain and other countries, and foster understanding among different faiths and cultures.
"Religious education remains compulsory for all state-funded schools, including academies and free schools, at all key stages and we expect all schools to fulfil their statutory duties," said the spokesman.