'My daughter had to share a classroom with her rapist'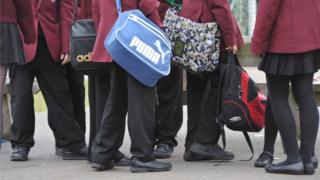 Rachel's daughter was raped by a boy at her school. He was arrested, bailed, and put back in his normal lessons, alongside his victim, the following day.
"Somebody who's been raped is already in a terrible place, but to be expected to be back in the same space as the rapist is just terrible," she told the Victoria Derbyshire programme. "It's re-traumatising - it's just a terrible thing to do to a rape victim."
The government says it is writing interim guidelines for schools to prevent schoolchildren being forced to share classes with pupils who have raped or sexually assaulted them, but campaigners say it is taking too long.
Rachel - not her real name - said her daughter's anonymity was compromised at an early stage - which made life especially difficult.
"Being in the same classroom as the person that's raped you is difficult enough, but when people in that room know what's happened and they're watching how you cope being in the same room as the rapist - that's just awful," she explained.
"It's a whole extra layer of stress, knowing that these people are watching you - it's just vile. It's voyeurism gone mad."
Withdrawing from school
Rachel said the school seemed to have no policy in place for the situation and dealt with it "extremely badly". She had to instigate a meeting and, despite her efforts, she says, they did not prioritise her daughter's needs.
"They were very keen to protect his right to an education, but seemed to give no consideration at all to her rights as a rape victim and somehow or other they just didn't understand what it would do to a rape victim to be expected to be in the same space as the rapist," she said.
Her daughter started to absent herself from lessons where she might see him, before gradually withdrawing herself from school entirely.
The issue was highlighted in a report by the Commons Women and Equalities Committee in 2016, which exposed the widespread incidence of sexual violence and harassment in England's schools.
According to BBC research, 5,500 sexual offences were reported to the police as having taken place in UK schools over a three-year period to July 2015, including 600 rapes.
Last month, lawyers who had been contacted by victims, wrote to Education Secretary Justine Greening, accusing her of being in breach of her statutory duty under section 149 of the Equality Act 2010 which requires her to have due regard to the need to eliminate discrimination against girls in school and advance equality of opportunity.
Her department has replied saying it is drafting interim guidance.
'Patchwork approach'
Rachel says the current guidance on the Department for Education website includes 11 pages of notes of what to do if the perpetrator is an adult, but the paragraph on peer abuse has no detail.
"Which is why you get a patchwork approach, and it leads time and time and time again, to the victims being treated really, really badly by schools," she said.
"I believe strongly that it's time the government stepped up and provided as much guidance as they provide when the perpetrator is an adult, because it's just as complicated."
Rachel Krys, co-director of End Violence Against Women, agreed that it was all taking "far too long".
She said the extent of the problem highlighted by last year's select committee report was shocking and the government was failing to act on its obligations under human rights legislation to protect students.
"Girls continue to be failed by schools and the system," she said. "The government has to tell schools what to do, you can't expect each individual head teacher and board of governors to decide, it's not easy and the government has to take responsibility."
'Let down'
Rachel says her daughter is recovering well but feels "hugely" let down.
"A terrible situation was made much worse and there are long-term consequences for her of that, both in terms of her ability to access criminal justice is in some ways compromised and in terms of her psychological wellbeing," she said.
The Department for Education said it was working with specialists to determine how the issues raised in the committee inquiry should be best reflected in guidance and it was important to get it right.
Minister for Children and Families Robert Goodwill, said: "Statutory safeguarding guidance is clear that schools should have an effective child protection policy that addresses peer-on-peer abuse. This should include procedures to minimise it along with advice on how allegations will be dealt with and how victims will be supported.
"We are considering what more can be done to assist schools and we listen to the views of stakeholders and experts when updating our safeguarding guidance."
Watch the Victoria Derbyshire programme on weekdays between 09:00 and 11:00 on BBC Two and the BBC News channel.