Malala Yousafzai attends first lecture at Oxford University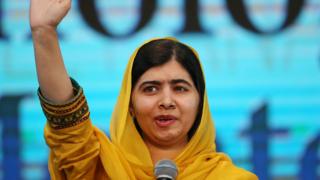 Most people going to their first university lecture worked hard to get there - but few have a journey like Malala Yousafzai.
Today the world famous education campaigner tweeted a picture from her first class at Oxford University - five years after she was shot in the head by militants in Pakistan.
The 20-year-old Nobel Peace Prize winner accepted a university place in August at Lady Margaret Hall college to study philosophy, politics and economics.
She was shot on the way home from school in 2012 after writing an anonymous diary about life under Taliban rule.
"Five years ago, I was shot in an attempt to stop me from speaking out for girls' education. Today, I attend my first lectures at Oxford," Malala wrote today on Twitter, which she joined in July after finishing school.
You might also like:
Within minutes her picture was shared more than 10,000 times as people around the world wished her good luck.
"All the best. You are such a wonderful inspiration to every girl," wrote one Twitter user.
Another tweeted: "Congratulations Malala. You stand as a beacon of hope to women and all of us in this world. Enjoy university!".
After recovering from her near-fatal injuries, Malala and her family relocated to Birmingham, UK.
She became an internationally known symbol and advocate for the fight to improve girls' literacy around the world, and in 2017 was made the youngest ever UN Messenger of Peace.
By Georgina Rannard, UGC & Social News team