'I'm scared of my own autistic child'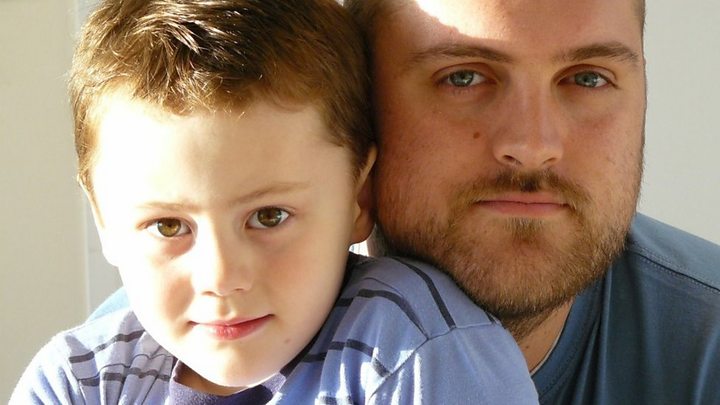 Parents struggling to cope with their violent autistic children are not being properly supported by local authorities, the National Autistic Society says.
For some, a violent outburst can be a daily occurrence.
"I'm scared of him. You live on a knife edge. You don't know what's coming next," Lucy Goldsworthy told the BBC's Victoria Derbyshire programme.
She has previously been left with a split lip and bruising following her son Elliot's violent outbursts, while her husband Ian has been left with a scratched cornea.
Twelve-year-old Elliot has autism and learning difficulties which, in his case, means he is unable to speak.
His condition requires round-the-clock care and he does not understand the effects of his actions.
Ian and Lucy say their son became violent and aggressive from the age of five.
At his current age, he is becoming increasingly difficult to control.
"If it was a toddler, having a huge tantrum, scratching and kicking you, you can manage it better," Lucy says.
"Whereas when Elliot does it, it's like a small man suddenly attacking you.
"He's still only violent 5% of the time - but the consequences of that violence are getting worse and worse."
Ian and Lucy have had to put bars across the window in Elliot's bedroom and locks on the door to help keep him - and their other children - safe.
"You kind of get used to your child's bedroom looking like a cell of some kind," Ian says.
Elliot attends a special school, but the couple say they do not get enough specialist support from their local council.
"You have to get to the point where one of you is hospitalised or you've had to call the police out [for help to arrive]," they say.
For its part, the family's local authority, Hertfordshire County Council, says it does provide a range of care support and is deciding if more help is needed.
One woman who wished to remain anonymous, "Sam", says she "cried and cried" for help from her local authority to look after her teenage son.
She had hoped that one incident, which required her to have a head wound glued after he became violent, would act as a "turning point".
"At first I got a bit of help," she says, before claiming that the council later tried to "wash their hands" of her - providing her with 48 hours' worth of support a year.
What services can families expect?
Assessment of the problems that may provoke challenging behaviour
A care plan outlining steps needed to manage it
Help to increase structure and minimise unpredictability
If all else fails, anti-psychotic medication can be considered
Information from NICE Guidelines for health and social care professionals
One 2011 study, of nearly 1,400 children with autism in the US, found more than half were aggressive or violent towards their families or carers.
Tim Nicholls, from the National Autistic Society, believes parents and families need more support "to help them avoid or de-escalate challenging behaviour".
"Some examples of this would be helping them with positive behavioural strategies or respite for the young person," he adds.
Mr Nicholls is calling on local authorities and NHS England to improve the care they provide.
"If children are not having their needs met, then they are being failed," he says.
"We need a special educational needs and disabilities system that identifies all the needs of autistic children, then puts in place the support and the services to allow them to live the life that they and their families want to live."
'His nature is gentle'
Nineteen-year-old Cameron is one of 700,000 people in the UK on the autism spectrum.
He was diagnosed at the age of three.
"Sometimes you don't know how Cameron's going to react and it is very scary," says his father, Doug Clements.
"The [other] children have to lock themselves in the room because they are so scared."
At the moment, Cameron goes to a specialist centre each day.
However, life at home has become very difficult, and his parents are currently looking for a residential care home for him, run by the local authority for children and vulnerable adults, close to their own home in Surrey.
His mother, Hannah, says the family can no longer manage Cameron's behaviour.
"It's really upsetting, because I love him so much," she says.
"I don't want people to be scared of him, because his nature is gentle.
"I feel sorry for him because he's frustrated, and he can't tell me why or other people why."
Hannah says in the last six years, they have had "no direction at all" from support services, but Surrey County Council said it continued to offer respite care and day support to the family.
'Gone to bed sobbing'
NHS England says it has "set out a clear programme" for those with learning difficulties and autism to "enable more people to live in the community, with the right support, and close to home".
However, the Local Government Association says that while "councils are working hard to make sure children with autism and other special needs get access to the support they need... they have been put in an impossible situation due to increasing demand and historic underfunding".
Elliot Goldsworthy's parents believe their need for support will only become greater as their son gets older.
"We've definitely had moments when we've gone to bed sobbing, and despairing at how this is our life," says Ian.
"But you can't wallow in it too long, because you've got exactly the same life the next day."
Watch the Victoria Derbyshire programme on weekdays between 09:00 and 11:00 on BBC Two and the BBC News Channel.