Grammar school A-level row head suspended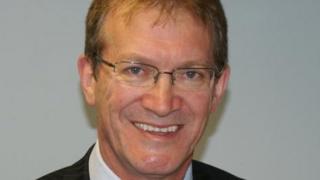 The grammar school head teacher at the centre of a row about pupils not being allowed to stay on to take A-levels has been suspended.
Aydin Onac, head of St Olave's in Orpington, has been suspended by the school's governors.
Parents had threatened legal action after some pupils were told to leave the school before the upper sixth year.
It raised questions about schools boosting their league table rankings by restricting who could take A-levels.
St Olave's, in the London borough of Bromley, is one of England's top-performing grammar schools.
But in August it was caught up in a high-profile dispute when some of its pupils were told they would not be re-admitted for their final year.
Legal challenge
Parents began legal proceedings that claimed that removing pupils between Year 12 and 13 - the lower and upper sixth - would have been a form of unlawful exclusion.
The parents challenged whether the school could stop pupils returning because of their expected A-level grades.
St Olave's reversed its decision and allowed the pupils to return for upper sixth - and the planned court hearing did not take place.
But the school's governors have now decided that the head teacher, Mr Onac, should be suspended.
The governors say that the local authority is carrying out its own investigation into the A-level controversy.
The St Olave's dispute began a wider debate about whether schools should be able to stop pupils progressing in this way - and whether filtering out academically-weaker pupils ahead of exams was being used to artificially boost results and league table rankings.
Other schools were forced to review their procedures on whether to allow pupils to continue into the final year of A-levels.
A statement from the chair of governors, Dr Paul Wright, said: "I have been informed that the London Borough of Bromley will be conducting an investigation of St Olave's Grammar School in respect of concerns that have been raised over recent weeks.
"In light of this, and in order to protect the integrity of the investigation, Mr Onac has been suspended from all of his responsibilities as headmaster of the school."
"Please remember that this suspension is without prejudice and does not presume any particular outcome. We are committed to full transparency and will be co-operating fully with the local authority in this matter."
Bromley Council confirmed "that there will be an investigation into concerns raised".
This year's A-level results at St Olave's saw 75% of all grades being awarded at A* or A and 96% were at A* to B grades, far above the national average.