How fear puts girls off PE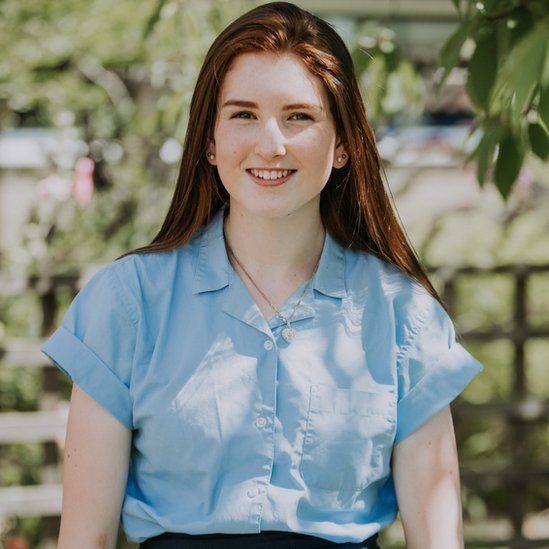 Gracie Rowe used to be terrified of PE.
"I was on the tubby side.
"My personal self-consciousness was like a devil on my shoulder telling me I couldn't do it.
"It was the fact that I had to move, be active and sweat.
"I would just stand and watch and mope."
Gracie says she had zero self-confidence when she started secondary school.
She was so nervous that she tried to persuade her mum she was sick most days and twice-weekly PE lessons were a particular source of stress.
"I was worried that people judged me. It was because I wasn't happy with myself."
The school's PE uniform didn't help: "It was a 'skort' - sort of shorts and skirt in one - and it was quite tight and short.
"All my friends hated PE just as much as I did."
Hayley Wood-Thompson, Gracie's PE teacher at The John Warner School in Hertfordshire, says about half of the girls feel the same.
The school shares its site with a sports centre, so has the use of excellent facilities.
"We offer quite a broad spectrum of activities. There is a dance studio and swimming pool. But lots of the girls are still turned off by it."
The UK's chief medical officer recommends school-age children do at least an hour of exercise each day.
But new research with 25,000 secondary students in England and Northern Ireland suggests that, at secondary level, only 8% of girls and 16% of boys manage this.
Of the teenagers, surveyed by Youth Sport Trust and Women in Sport, more than 80% understood the importance of being active but almost half of boys and nearly two-thirds of girls were less than keen on taking part themselves.
The research suggests lack of confidence is key.
Among girls over 14, more than a third said they felt insecure, hated other people watching them and were self-conscious about their bodies.
Almost two-thirds said they disliked competitive PE lessons.
Gracie's mum and her teachers realised they had to boost her confidence to ensure she attended school.
Her mum brought her in for meetings with the head of year - and the school enrolled her on to a healthy living project to improve her self-esteem.
At the same time, big reforms to the school's PE programme were under way, designed to encourage girls to engage with the subject.
First off, skorts were out, replaced by black sports leggings.
"It's the sort of thing you might wear to the gym on a Saturday morning. It feels a bit more adult," says Ms Wood-Thompson.
The school also now divides its PE programme into pathways, allowing girls and boys to choose how much competitive and outdoors sport to do.
"The girls-only pathway is tailored to boosting levels of confidence.
"There will be a bit more aerobics, dance, being inside in the winter. So they're not turned off by being outside in the rain and cold.
"More sporty girls are offered a mixed programme with the less athletic boys - this might involve dodgeball, football and more competitive games.
"And sporty boys have a boys-only programme."
Gracie Rowe chose the girls-only pathway and liked it.
"It was just the fact that we didn't need to show off to anyone or act like someone we're not."
Gradually her confidence improved. She not only started to join in PE, but began to enjoy it and made friends.
"It helped me forget what other people thought of me and have confidence in myself."
Now 14, she is no longer tubby, plays in the football team for her school year, takes dance classes and is in the gym "all the time".
She also joined the Combined Cadet Force run at a nearby private school, knows how a rifle works and takes part in field days and camps.
Last year the school nominated her as a leader on the Youth Sport Trust's Girls' Active programme, which aims to tackle girls' negative body images, improve attitudes to physical activity and to make sport more relevant to them.
"She has made the biggest improvement I have ever seen," says her PE teacher.
"I know that not every girl is going to have a fully positive experience in every PE lesson every day but I hope I can enthuse them enough to encourage them to take part. It's all about relationships."
She hopes the young leaders on the programme will help other girls overcome barriers to physical activity.
"They are very keen to improve the mental health and self-esteem of their peers.
"They really care about trying to remove the stigma of being active and getting sweaty and to foster a happy, supportive and relaxed environment for PE."
Gracie says a myriad of factors can stop girls being active "but you realise you don't have to be like that or think like that".
"I feel empowered now to influence other girls who were like me by showing them that there is no limit to what you can do.
"It doesn't matter on your size, age or ability level, start with what you are comfortable with and push those boundaries. Don't let anyone hold you back."
Related Internet Links
The BBC is not responsible for the content of external sites.