Teach Reception children how to grip a pencil, says Ofsted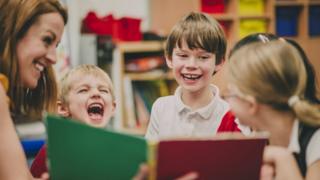 Children in Reception class in England should be taught how to grip a pencil properly and how to sit correctly at a table, says the watchdog Ofsted.
Inspectors say a third of five-year-olds do not have the essential knowledge and understanding they need following their first year at school.
They say the picture for children from poorer homes is worse, with nearly half failing to gain necessary skills.
Heads said the good work of early years professionals should not be undermined.
Ofsted says primary-school teachers should be reading lots of stories, poems and rhymes out loud to children.
It says encouraging them to join in and learn them by heart introduces them to new vocabulary, language structures and ideas.
Providing children with the right reading books to practise what they have been taught in their phonics lessons will make sure they master the alphabetic code so they can read by themselves.
Reading should be the focus in the Reception year and reading "was at the heart of the curriculum" in successful schools.
The report - Bold beginnings - also says schools should:
ensure that when children are learning to write, resources are suitable for their stage of development
ensure they are taught correct pencil grip and how to sit correctly at a table
attach greater importance to the teaching of numbers and counting, recognising small numbers of items, comparing numbers and solving problems
provide frequent opportunities for children to practise and consolidate their skills
The watchdog says the Reception year is essential as, for many children, it is their first experience of full-time education.
It says it is a time when teachers set the routines and expectations that will serve children well for the rest of their school life.
'Deserve better'
Ofsted boss Amanda Spielman said: "Reception should not just be a repeat of what children learned in their nursery or pre-school, or with their childminder.
"They deserve better than facing years of catching up.
"The best schools know how to design their curriculum so that children's learning and development sets them up well for the rest of their schooling.
"Reading should be at the heart of the Reception year.
"It is important that in the Reception classroom young children hear new vocabulary and have the opportunity to practise new words and phrases."
Paul Whiteman, general secretary of National Association of Head Teachers, said recognition of the importance of Reception was welcome.
"However, when looking at outcome data for the Reception year, we shouldn't forget that children start school at different stages of development and data reflects more than just that year's experience," he said.
"Nine out of 10 primary schools are rated good or better by Ofsted. Overwhelmingly, the school system serves the youngest learners very well.
"This report should not cast unnecessary doubt on that record, undermining the good work done by early years professionals."
The Department for Education said that thanks to its increased emphasis on phonics, six-year-olds were "reading better than ever before".
"We also know the gap between disadvantaged children and their peers is narrowing," said a spokeswoman.
"But we want to make sure all children have access to a high-quality education from the earliest age, so they get the best start in life and a strong foundation for success at primary school and beyond.
"That's why we're making improvements to the early years foundation stage profile, as set out in our response to the primary assessment consultation, and opening our £140m strategic school improvement fund to programmes that help boost literacy and numeracy in Reception."