The children educated in isolation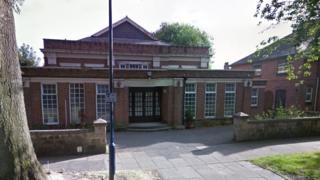 "I don't think anyone would think that you should have to spell out that toilet paper should be available in every toilet."
Amanda Spielman is talking about a recent inspection of a fee paying Muslim girls school where there was also no soap or drinking water for pupils.
Speaking to me for her first report, the chief inspector of schools told me everyone should be worried about what's been uncovered in England's independent faith schools.
"We've found books that are truly shocking - books that advise that a woman isn't allowed to refuse sex to her husband, books that say a husband may beat his wife."
Almost half of the private faith schools Ofsted has inspected were found to be struggling, with more than a quarter failing.
The highest proportion not meeting basic standards was among Muslim and Jewish schools.
If you read recent inspection reports on some of these schools it paints a grim picture of squalid buildings.
In some there is a failure to protect children from the risks of adults who haven't been properly vetted.
But what concerns Ms Spielman most, is the psychological isolation of children being brought up exposed to ideas that run counter to British values.
"It is extraordinarily difficult to created a unified society if children are sometimes completely unaware there is any other way of thinking than in the enclosed world that is their school."
These are at least schools that are registered.
Illegal schools
Beyond that is a shadowy world of places apparently operating outside the law, educating children apart from mainstream society.
Anywhere providing full time education has to register as a school in England.
Since January 2016 when Ofsted set up a special team of inspectors, they have investigated 331 suspected illegal schools.
Last year I became the first journalist to watch the team at work as they turned up for their unannounced visits.
A large number of the suspected premises were what's called "alternative provision" for children whose behaviour had led to them being taken out of their school.
The remainder are Christian, Jewish or Muslim centres which claim to offer religious instruction but in some cases are the only or main place where children are being educated.
Some of the places we've uncovered in the past have been closed down following visits by Ofsted.
But still there hasn't been a single prosecution of a suspected illegal school.
Ms Spielman wants the law to provide a better definition of what constitutes a school and more powers for her inspectors.
They can't force entry or seize evidence.
"We have to stand by if the adults take the children, the books, all the records away. All we can say is what we witness and that doesn't help anything move forward "
Some places close, others may simply move elsewhere.
It's almost two years since the coalition government ran a consultation on clarifying the law.
The idea was to require anywhere offering intensive instruction to register and be open to inspection.
Nothing followed.
Following the Ofsted report the government told us "extremism has no place in our society" and it was requiring schools to actively promote British values.
In a statement, the Department for Education said: "Any independent school that does not comply with the independent school standards must either improve or we will close it down.
"We always support Ofsted, local authorities and the police in tackling unregistered schools, which are illegal and unsafe."