Schools struggle to get mental health help, says survey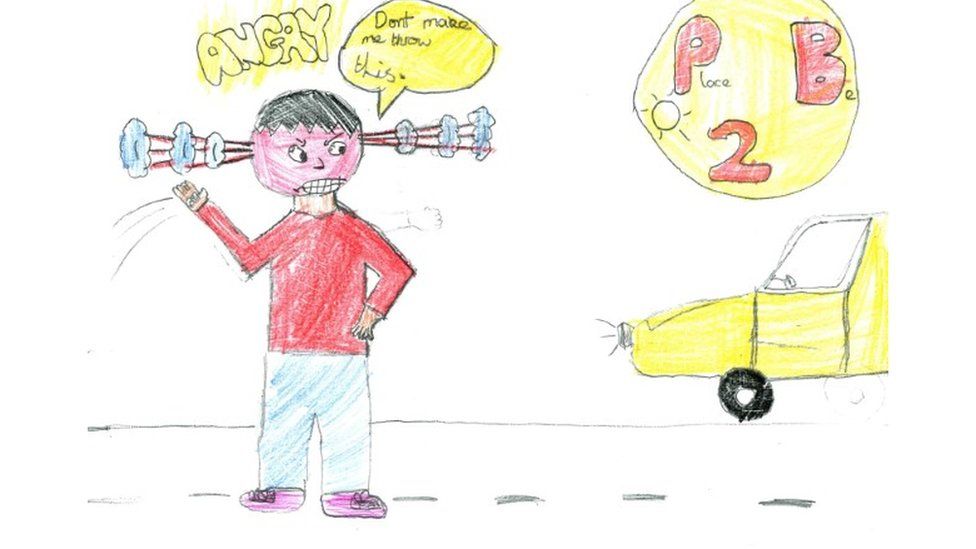 A survey of UK head teachers has found that nearly half are struggling to get mental health support for their pupils.
A total of 45% of 655 of school leaders quizzed by children's mental health charity Place2Be said it was a problem.
One mother, who did receive support from her local school after a friend suggested she should ask for help, told the BBC how a violent incident with her son at home was a tipping point.
"The final straw came when he tried to push me down the stairs," says Melanie.
"And he hit me in the back as well."
Melanie's nine-year-old son was finding it hard to control his anger and was lashing out physically and verbally at her and his father and sister.
But while Melanie's family did manage to get help through the school for her son's issues, the Place2Be poll suggests many other families may be being let down.
The survey - carried out to mark this week's Children's Mental Health Week - found 44% of head teachers said knowing what type of support was needed was a barrier to them providing mental health support for pupils.
And 37% said they did not feel confident in commissioning a counsellor or therapist.
The charity also surveyed 1,198 counsellors and psychotherapists currently working in schools and found 34% said providing services in schools was difficult.
The pledge came as NHS figures showed around one in 10 girls aged 16 or 17 was referred to specialist mental health services in England in 2016.
For Melanie, accessing specialist therapy for her son from a Place2Be therapist based at their primary school has turned the whole family around.
Her son, who is now 11, is a lot calmer and has learnt how to process his emotions better.
"I've now got a job - without that support I don't think I'd have had the get up and go in the morning because it was such a fight to get my son to school.
"The help the school has given us has changed our whole family unit - without Place2Be I don't know where I'd be and I don't know where my son would be.
"To admit that we needed help was hard, but then to find the help was only round the corner at the school was brilliant.
"I think this support is extremely important. It was a relief to know the help was there."
Place2Be chief executive Catherine Roche said school leaders were under enough pressure and should not be expected to become mental health experts as well.
"Our evidence and experience shows that embedding skilled mental health professionals in schools, as part of a whole school approach, can have an enormously positive impact for pupils, families and staff.
"It's encouraging that the government's Green Paper proposals have recognised this, but to really transform children's mental health provision, we need all schools to have access to dedicated funding, support and training to be able to source, commission and evaluate services effectively."
Earlier this week, the Local Government Association said every secondary school in England should be given funding to offer independent mental health counselling to all pupils.
What does the government say?
A spokeswoman for the Department for Education said the government had pledged £1.7bn to help "promote, protect and improve" children and young people's mental health and wellbeing.
"This includes improving the links between the NHS and schools, speeding up access to more intensive support, as well as boosting capacity to ensure early intervention and help schools to decide what other support to provide."
Related Internet Links
The BBC is not responsible for the content of external sites.