Many adults 'don't know signs of eating disorders'
By Katherine Sellgren
BBC News family reporter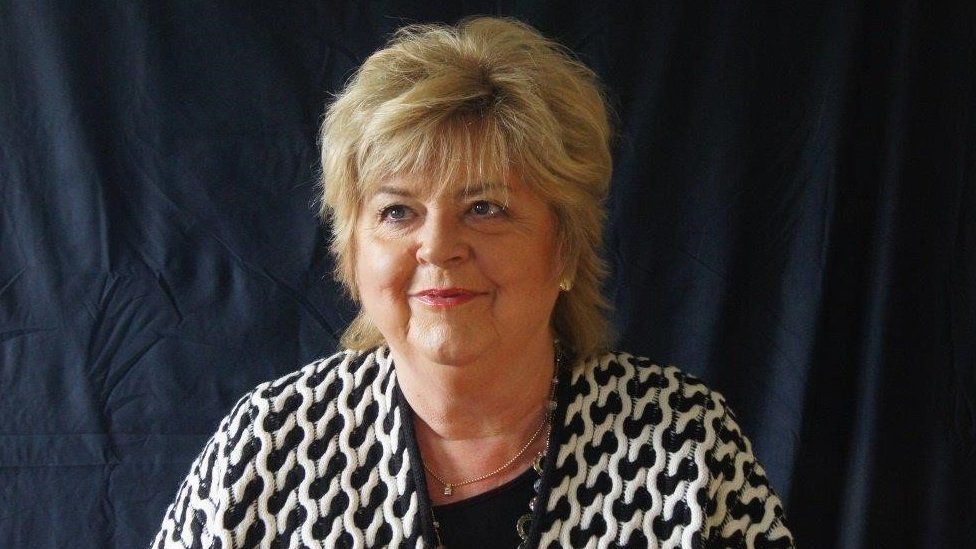 "I must have been in denial - I was in denial," says Lynda Kent, whose daughter developed an eating disorder 15 years ago at the age of 19.
"I didn't want to see there was a problem, until her sister made it very clear that we had a problem."
Lynda says she knew nothing about eating disorders back then and was slow to pick up on the telltale signs.
Her story is not untypical, as a survey finds one in three adults could not name any signs of an eating disorder.
The YouGov survey of 2,108 adults in the UK - to mark Eating Disorders Awareness Week - also found 79% were unable to name psychological symptoms, such as low self-esteem or having a distorted perception of weight.
The eating disorder charity Beat says low awareness of the early signs of illnesses like anorexia and bulimia is linked to delayed treatment and increased risk of the illness becoming life-threatening.
Lynda says the early warning signs are often subtle.
"In the early days, you don't see all the signs. Some of them can be mood swings - my daughter became very withdrawn and very quiet.
"She started to display signs of avoiding food, avoiding the truth of where she was eating that food, and lying - so she'd say 'I ate earlier' or 'I'm eating at a friend's'.
"But it was a very long time before dramatic signs were being shown. It was her sister who noticed it and spoke up and said: 'Can't you see what's happening, Mum?'."
What are the signs to watch out for?
The charity Beat says the main signs to watch out for are:
becoming obsessive about food
changes in behaviour
having distorted beliefs about their body size
often tired or struggling to concentrate
disappearing to the toilet after meals
starting to exercise excessively
Beat chief executive Andrew Radford says the survey findings are worrying because when early signs are picked up on and sufferers are treated early, they are more likely to make a sustained recovery.
"If you are worried about a family member, a friend or colleague, talk to them and encourage them to visit their GP or self-refer to an eating disorder service."
Lynda says parents and relatives need to be aware that people with eating disorders can become very secretive as they try to hide the extent of their problem.
"They become very clever about not wanting to be found out, a bit like alcoholics, so they become very clever at manipulating the situation they're in."
She recalls how one time she had left her daughter some chicken in the fridge and, in an attempt to look like she had eaten it, the teenager carved the meat off the bone, but threw it over the fence so as not to be discovered.
"Until you understand eating disorders, you think it's all about getting them to eat, but it's the mind that needs attending to.
"If the mind isn't dealt with, the food won't change, because it all comes from a place of insecurity and control - food is the only thing they can control."
Lynda suggests that anyone who is concerned about a loved one should research the issues thoroughly and get help as soon as possible.
"You've got to get on to it fairly fast - the longer you have it, the worse it is to deal with.
"Early intervention is absolutely key. If you can get treatment early, you can nip it in the bud earlier.
"But they have got to be in a place where they want help," she adds.
Despite more than 10 years of battling anorexia, the story of Lynda and her daughter does have a happy ending.
After private treatment in the US, her daughter's health has been stable for the past five years and she is working as a producer for the BBC.
"I'm full of hope," says Lynda, "if I think back five-and-a-half years, I was very worried that I might not see my daughter alive again.
"If someone as poorly as she was can pull through, there's hope. But it takes a lot of love, care and devotion, but there is hope."
Beat offers two helplines - one for adults: 0808 801 0677 or email help@beateatingdisorders.co.uk and one for young people: 0808 801 0711 or email fyp@beateatingdisorders.org.uk
Related Internet Links
The BBC is not responsible for the content of external sites.