University lecturers begin strike in pension dispute
By Judith Burns
Education reporter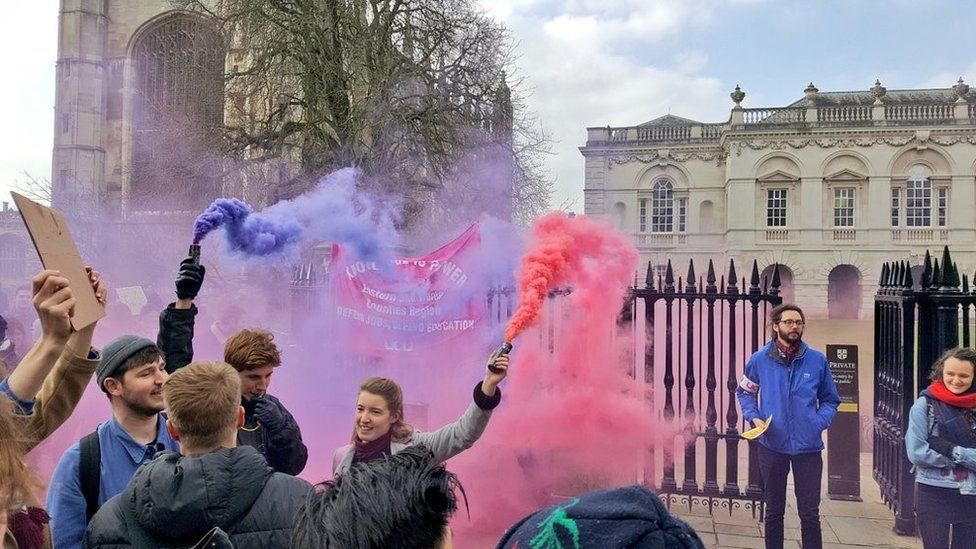 There have been pickets on campuses as university staff begin a strike in more than 50 universities, in a dispute over pensions.
Lecturers have walked out at universities including Oxford and Cambridge at the beginning of a month-long strike campaign.
Petitions signed by 80,000 students, many backing the lecturers, are demanding refunds for lost teaching.
Universities minister Sam Gyimah has called for more negotiations.
But Mr Gyimah says students "deserve to receive the education that they are paying for. For many, this is a vital time in their studies".
Members of the University and College Union are striking because changes to the Universities Superannuation Scheme will leave a typical lecturer almost £10,000 a year worse off in retirement, they say.
Younger academics could lose almost half of their total retirement income, says the union.
But the employers' group Universities UK says the scheme has a deficit of more than £6bn which it cannot ignore.
"This industrial action is targeted at students. It will be young people and the next generation of students who will also suffer if their education deteriorates because employers are forced to make cuts to pay more into pensions," said a Universities UK spokesman.
However, there are indications that UUK may be ready to re-open talks on the issue.
UCU general secretary Sally Hunt said: "We have been calling for talks for weeks either directly or through Acas, so if UUK are willing to now meet without preconditions with a view to resolving this dispute this good news."
Under the proposed pension plan, the USS will change from a defined benefit scheme, giving members a guaranteed income in retirement, to a defined contribution scheme, where pensions are subject to changes in the stock market.
The union says the existing scheme is performing well and UUK's determination to push through the changes and refusal to compromise has left them no alternative but to strike.
"Staff are angry and significant disruption on campuses across the UK now looks inevitable," said UCU general secretary Sally Hunt.
The industrial action comes as figures suggest university bosses took home pay packages worth more than £268,000 on average last year.
The Times Higher Education analysis of university financial accounts shows UK vice-chancellors saw their pay rise by just over £10,000 on average (4%) in 2016-17 - nearly four times the 1.1% increase awarded to staff.
At London's City University, senior law lecturer Keith Simpson said the pensions proposals would devastate academics' living standards in retirement.
"They're not particularly well paid but they do have the benefits of some certainty that when they retire they will have a reasonable pension," he said.
"Under the proposals that are being put forward, that's gone. There is no certainty whatsoever and really we think this is a stand we've got to make."
The union estimates that over half a million teaching hours will be lost during an escalating four-week strike programme:
week one - staff at 57 universities walk out this Thursday and Friday
week two - the 57 will be joined by staff at four more institutions on a three-day strike from Monday
weeks three and four - staff a total of 64 universities will strike for nine days
Members will refuse to reschedule classes lost on strike days.
Students at about 30 universities have signed petitions asking for refunds.
At King's College London, petition organiser Robert Liow, a third year law student, said that if universities refused refunds they would be effectively profiting from the dispute as they would not be paying lecturers on strike days.
"I believe education is a public good and not a service to be sold - but we are being treated as consumers.
"If they insist on making us pay, we will insist on our money back."
You might also be interested in:
City University's petition asks for the amount saved by not paying striking lecturers to be divided among the students affected.
Katie Walters, co-organiser of the Cardiff University petition, said she feared the dispute could drag on into the summer term, affecting final exams and dissertations.
"Although we fully support the lecturers - they work so hard and deserve good pensions - this is a major disruption to our studies."
Feelings are also running high among students at universities without petitions.
Georgia Davies at St Andrews fears the dispute will mean pickets outside university buildings, limiting access to libraries and potentially affecting her final degree result.
"I really don't fancy pushing past lecturers who are losing tens of thousands of pounds just to get a book out.
"We are being disadvantaged again. If I don't get a good 2:1, what's the point?" she asked.
Universities UK said institutions were doing all they could to minimise the impact of the industrial action on students before they reached the stage of claiming compensation.
UUK called the strike action "disappointing" and said: "The changes proposed will make the scheme secure, and sustainable, safeguarding the future of universities.
"University staff will still have a valuable pension scheme, with employer contributions of 18% of salary, double the private sector average," said a UUK spokesman.
The proposed changes will affect staff at 68 older universities. Staff at post-1992 universities are members of a different pension scheme.