University strike: Lecturers' pension action solid, says union
By Judith Burns
Education reporter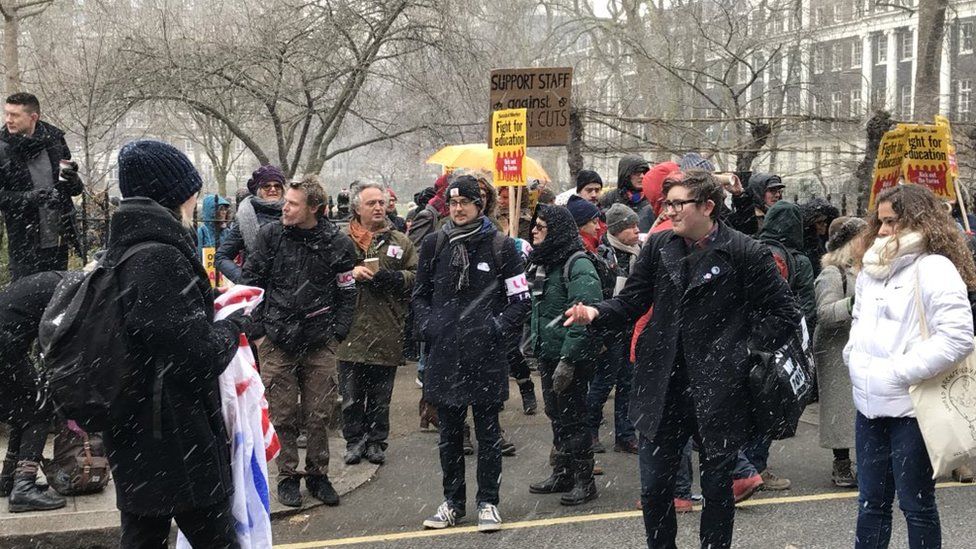 Staff at four more universities have joined the strike over pension cuts, with 61 now affected, the University and College Union said on Monday.
Support for the action remains "solid", with pickets braving freezing temperatures, according to the union.
Staff say the pension changes will cost the average academic £10,000 a year in retirement - but the employers say the scheme has a deficit of more than £6bn.
Bosses have ruled out new discussions on the changes at talks due on Tuesday.
Under a plan agreed in January, the Universities Superannuation Scheme will change from a defined benefit scheme, giving members a guaranteed income in retirement, to a defined contribution scheme, where pensions are subject to changes in the stock market.
And, in a letter to university vice-chancellors and principals, which became public over the weekend, UUK's chief executive Alistair Jarvis, argued that talks without preconditions could not "achieve a sustainable resolution to the dispute".
The union has agreed to the talks but has expressed misgivings that these preconditions mean they will not address "the very reason for the strike".
Universities UK says it will, however, consider "a credible proposal that addresses the significant financial issues the scheme is facing".
"It would be irresponsible of employers to walk away" from the January decision "without an alternative being agreed", a UUK spokeswoman said.
The union disputes the method which concluded that the scheme was in such a poor financial state and has called for a new evaluation.
Some vice-chancellors are backing this view with Peter Piot, director of London School of Hygiene and Tropical Medicine, urging "a further actuarial valuation of the scheme".
While Anthony Forster, vice-chancellor of Essex University, has said "university employers must step up to the plate and commit to increasing employer contributions to the scheme".
"Principled compromise is the answer," he argued.
Some 18 vice-chancellors have so far called on Universities UK to adopt a more conciliatory approach.
As of Monday evening almost 115,000 students across 43 universities had signed petitions, broadly supportive of the lecturers' position, and asking for fee refunds for lost teaching hours, according to figures from Change.org, analysed by UCU member Chris Forde, professor of employment studies at Leeds University.
In the first wave of a month-long programme of strikes, staff walked out at 57 universities on Thursday and Friday last week.
They, together with the staff at four more institutions whose three-day strike started on Monday, will be joined by colleagues at three more universities in weeks three and four of the action.