University dispute: More talks but strikes continue
By Judith Burns
Education reporter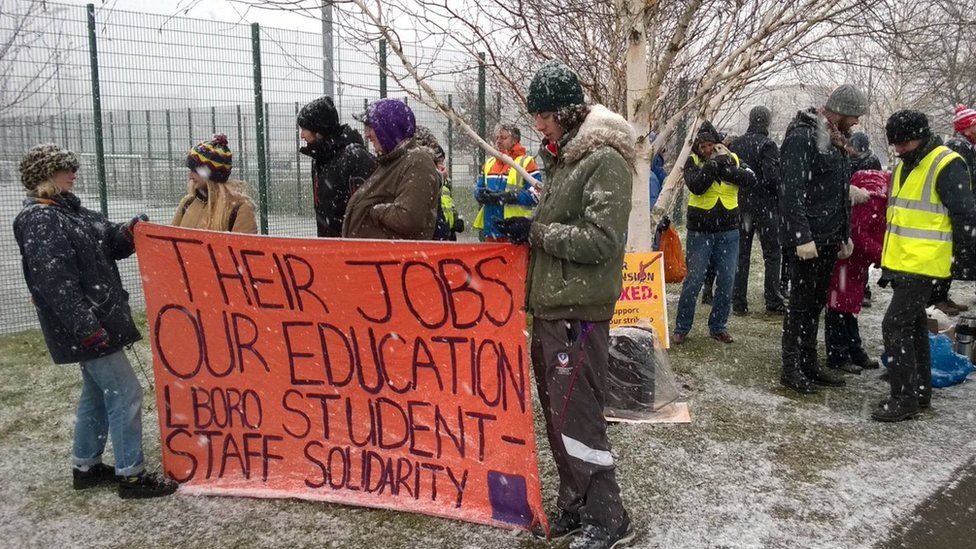 The two sides in the university pensions dispute have agreed to mediation by the conciliation service Acas - but the strikes will continue.
Staff at 61 universities have walked out over planned cuts to their pensions, with a further three due to join the action next week.
The University and College Union said it had tabled a set of proposals which it believed could resolve the dispute.
The employers, Universities UK, called Tuesday's talks "positive".
A UUK spokesman said the two sides had shown "a willingness to work together to address the scheme's financial challenges".
The employers said they had asked the union to stop the industrial action while talks continued.
But the union said strikes would go ahead as planned on Wednesday, with a further nine strike days over the next two weeks.
Staff say the pension changes will cost the average academic £10,000 a year in retirement - but the employers say the scheme has a deficit of more than £6bn which they cannot ignore.
Under a plan agreed in January, the Universities Superannuation Scheme will change from a defined benefit scheme, giving members a guaranteed income in retirement, to a defined contribution scheme, where pensions are subject to changes in the stock market.
The union said its plans, put forward at the Tuesday afternoon meeting, would provide a guaranteed defined benefit pension for scheme members at some extra cost.
UCU's proposals would include:
universities accepting some increased risk - which UCU says the majority of institutions would be happy with
increased contributions of 2.7% for employers and 1.4% for scheme members
UCU general secretary Sally Hunt said: "Our proposals for long-term reform reflect an attempt to reach a consensus around the challenges we face."
A UUK spokesman said: "Both parties agreed to involve Acas in facilitating further talks to bridge the significant distance between both sides".
Over 115,000 students across 43 universities have signed petitions, broadly supportive of the lecturers' position, and asking for fee refunds for lost teaching hours.
Related Internet Links
The BBC is not responsible for the content of external sites.