Secondary school staff suffer work attacks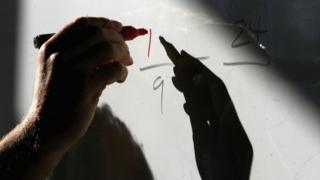 Secondary school staff are three times more likely to be physically attacked at work than the average UK employee.
The statistics given to BBC Radio 5 Live come from the Labour Force Survey (LFS).
It asked 40,000 UK households about injuries sustained after being assaulted at work.
The government said violence towards teachers was unacceptable and schools had been given more powers to deal with poor discipline.
Over the six year period analysed - 2009-10 to 2015-16 - there were an average of 8,000 attacks every 12 months in schools (primary and secondary) that left staff with physical injuries.
Jane is a teacher in a primary school in the north of England. She didn't want to use her real name.
She said she faced violence on a daily basis "I have been kicked. I have been hit, pushed, usually because of children being angry, frustrated, some children with additional needs.
"Some children - just that is the way they react when they don't get their own way. "
'A war zone'
Jane said she had also been punched and had suffered a back injury after restraining a pupil. She said the youngest child to assault her had been just six years old.
"It is like a bit like a war zone, but that becomes part of your management style - that you have to think, 'Right, this is what could happen.'
"I have to plan. I have to work out what I am going to do and what my responses are going to be. Sometimes you can do that. Sometimes you can't. And you get massive adrenaline kicks because you have to deal with things," she said.
The National Education Union, which represents nearly half a million teachers and support staff, said £2.8bn had been taken out of school budgets since 2015.
Joint general secretary Kevin Courtney said: "There's a general reduction in the amount of staff in schools.
"It used to be that if a child was acting out, you could send them out of the classroom and you could expect them to be looked after somewhere else.
"And in some schools the head teacher doesn't want you to do that because there isn't the support outside the classroom for that child to go to."
'Tough but proportionate'
The Department for Education said it had issued guidance to schools to make it clear "tough but proportionate" sanctions for misbehaviour were acceptable.
A spokesman said: "This government has taken decisive action to put teachers back in charge of the classroom by giving them the powers they need to tackle poor behaviour and discipline, and has scrapped 'no touch' rules that stopped teachers removing disruptive pupils from classrooms.
"Teachers and school staff have a right to feel safe while doing their jobs, and violence towards them is completely unacceptable."
You can hear more on BBC Radio 5 live Breakfast from 06:00 GMT on Tuesday 6 February.