Oxford U-turn in university pension cut dispute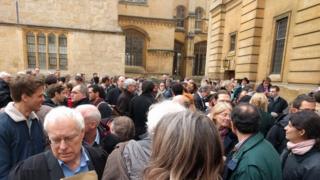 Oxford University has reversed its support for pension cuts, which have sparked strikes at 64 universities.
Oxford now joins about 30 other universities, including Cambridge, calling for a rethink.
In an email to staff, vice-chancellor Louise Richardson said she would recommend a U-turn on the changes at a special meeting of the university's council on Wednesday.
Oxford had blocked a debate on the plans at a meeting on Tuesday.
The university used a technicality to suspend Tuesday's debate, and angry academics then moved outside the building where a resolution for Oxford to reverse its stance was carried by 442 votes to two.
'Depth of feeling'
Prof Richardson has been a key supporter of Universities UK's plans for the Universities Superannuation Scheme, which staff say will cost them an average of £10,000 a year in retirement.
But her email to staff, sent on Wednesday, signalled a change of heart over the university's response to UUK's plan, in a consultation last year.
The email appears to accept that Tuesday's vote is binding.
"In the light of the depth of feeling of so many colleagues, we will convene a special meeting of council today at noon and will be recommending that council reverse its response to the UUK survey in line with congregation's resolution," she wrote.
Universities UK wants to change the USS from a defined-benefit scheme, giving members a guaranteed income in retirement, to a defined-contribution scheme, where pensions are subject to changes in the stock market.
The plan was put forward after an evaluation said the scheme faced a deficit of £6bn.
UUK says universities were consulted on the proposals and a large number of responses backed the changes.
But there have been concerns that the responses of individual Oxbridge colleges were given the same weight as those of much larger institutions, swaying the result.
And, two Cambridge colleges, St Catharine's and King's, have said their responses were the views of the staff members who filled in the survey, rather than an official position.
Since the strike action began, about 30 universities, including Cambridge, Bristol, Essex, Goldsmiths and Loughborough, have called for compromise.
Responding to Prof Richardson's email, Sally Hunt, general secretary of the University and College Union, said: "This is a very welcome decision by the University of Oxford.
"I would like to thank everyone who has campaigned so strongly in support of the union's position."
'A great opportunity'
Dr Karma Nabulsi, one of six academics who organised the Oxford motions, said Prof Richardson's email was "a great opportunity to restart discussions".
Another, Prof Robert Gildea, added: "This day belongs to Oxford and our colleagues across the country.
"We would like to thank them for their steadfastness and the vice-chancellor for recognising it."
A Universities UK spokesman said the employers were "united in their belief... that USS must be affordable, sustainable and continue to offer a meaningful benefit to staff".
"Over the last two years, Universities UK has consulted employers extensively on pensions reform through surveys, numerous meetings, written evidence and extensive professional advice."
More than 130,000 students have now signed petitions asking for refunds for tuition hours lost during the strike, which is now in its third week.