Teachers back prospect of national strike over pay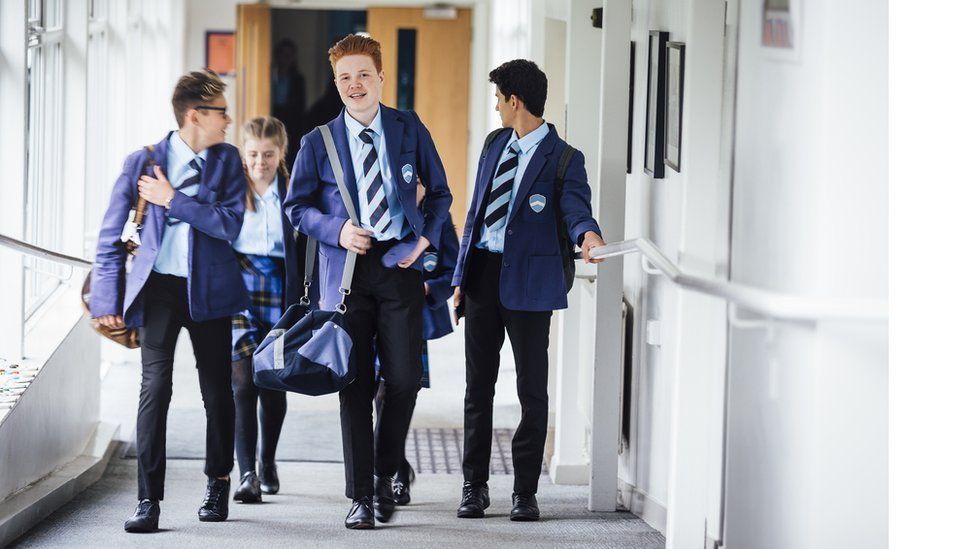 The UK's two biggest teaching unions have moved closer to national strikes over pay, backing ballots on action if substantial rises are not agreed.
The National Education Union (NEU) agreed a motion for a strike ballot, while the Nasuwt backed calls for a rolling programme of industrial action.
If ballots go ahead and are supported, it could mean disruption in schools in England, Wales and Northern Ireland.
The government defended teacher pay, saying they get £37,400 on average.
That rises to £41,900 in London, it said.
Both the National Association of Schoolmasters and Women Teachers and the NEU - formerly the National Union of Teachers - are meeting for their annual conferences this weekend.
The unions represent the vast bulk of teachers who belong to a trade union in England, Wales and Northern Ireland.
In Birmingham, the Nasuwt is debating plans which could include "rolling strike action if governments, administrations and employers fail to agree to substantial, above-inflation and across-the-board pay increases next year".
While the NUT motion, being heard in Brighton, claimed teachers' pay has fallen 20% in real terms since 2010.
It instructs the union to "launch a vigorous campaign on teachers' pay", calling for salaries to be restored to 2010 levels over the next three years.
An amendment that was passed "committed to a ballot of all members for strike action".
It also urged the union's executive to work with other teaching unions on submitting a joint pay claim for school workers - along the lines of that given to health workers - and for an initial pay hike of 5% "to begin restoring the cuts in living standards all school staff have suffered".
In both cases, the issue will be referred to each union's executive to take forward.
In its report last year, the School Teachers Review Body (which advises government on teachers' pay levels) said schools were facing substantial pressures in recruiting and retaining staff, and many were facing reductions in funding and growing cost pressures.
A number of unions have called on the STRB to recommend a 5% rise for teachers from this September, fully funded by the government.
Previous limited rises have had to be found from school budgets.
NEU general secretary Kevin Courtney said: "The funding crisis is really playing into the workload crisis which is really playing into the teacher recruitment and retention crisis."
Nasuwt general secretary Chris Keates said radical and urgent action was needed to close the gap between teaching and other graduate professions.
The Nasuwt has 280,000 members while there are 400,000 in the NEU, which was formed after a merger between the National Union of Teachers and the Association of Teachers and Lecturers.
A Department for Education spokeswoman said: "We have a record 15,500 more teachers in our classrooms than in 2010 and this generation of teachers is better qualified than ever before.
"It is thanks to these teachers' hard work and our reforms that 1.9 million more children are being taught in good or outstanding schools since 2010.
"We want to continue to attract and keep the best and brightest people in our schools."
Related Internet Links
The BBC is not responsible for the content of external sites.