Student loan repayment threshold rises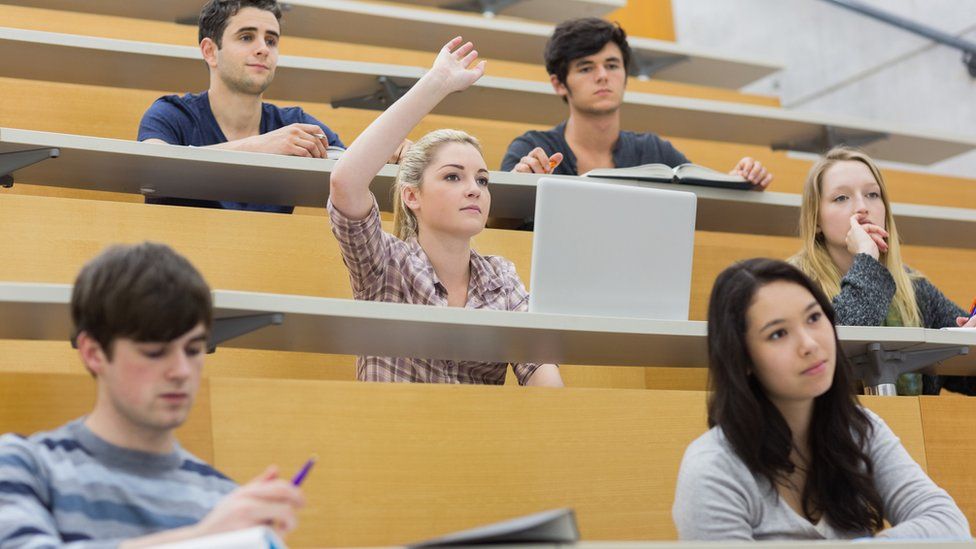 Former students will be able to earn more before they have to start paying back their tuition fee loans.
English and Welsh students who took out loans from September 2012 onwards - when fees in England rose to up to £9,000 a year - will now start to pay back when they earn £25,000 a year instead of £21,000.
The government says the move could save graduates up to £360 a year.
The National Union of Students said the change was "welcome relief" for many.
The Department for Education says some 600,000 graduates will benefit over the next financial year alone.
Previously, the repayment threshold for post-September 2012 loans had been frozen at £21,000 until 2020-21, but last autumn Prime Minister Theresa May announced a rise in the threshold from this new financial year.
The change will also lower the repayments of those earning over £25,000, as the percentage of salary paid back will be on a smaller amount.
Lower-earning graduates, who are likely to earn below the threshold for a significant part of their career, will see a smaller reduction in lifetime repayments, the IFS calculates.
While high-earning graduates - who would repay their loans in full - will see a reduction in yearly repayments, this will merely extend the period of time for which they have to repay and so will make little difference to their lifetime repayments.
IFS economist Laura van der Erve said: "Overall, repayments will fall by around £10,000 for the average graduate as a result of the threshold increase.
"This will significantly increase the long-run cost to the government of providing higher education. The long-run cost to the government will increase by more than £2bn a year, an increase of nearly 40%."
Do I need to do anything?
No. Graduates living in the UK will not have to do anything to receive the saving.
Repayments will be calculated automatically by employers for those paid on a PAYE (pay-as-you-earn) basis or as part of the self-assessment return to HM Revenue and Customs.
I have a pre-2012 loan. Is there any change for me?
Yes, although the benefits are not quite so significant.
For English and Welsh students who took out loans before 2012, as well as students from Scotland and Northern Ireland, the threshold rises each year in line with inflation.
This year the repayment threshold will rise to £18,330 - up from £17,775 - in line with inflation at 3.1%.
What does the National Union of Students say about the post-2012 change?
NUS vice-president for higher education Amatey Doku said: "This change will be a welcome relief for many of the lowest-earning graduates.
"In recent years the expected repayment for the lowest-earning graduates has increased by 30%, thanks to the freezing of the cap at £21,000 instead of rising slightly each year.
"However in making this change, the government has at least acknowledged that there are serious flaws in how we fund higher education in this country.
"I hope that this will not preclude a more in-depth consideration as part of the upcoming review into post-18 funding, lest this becomes patching up the holes on a sinking ship".
But Mr Doku said the change for tuition fee loans did not address the issue of living costs.
"This will not change the fact that our maintenance model is fundamentally regressive - students from the lowest income families accrue £57,000 of debt, compared to £42,000 for their more privileged peers."
What does the government say?
Universities Minister Sam Gyimah says the rise in the post-2012 student repayment threshold is a "key milestone" and shows the government is trying to support those in higher education.
"We are seeing more 18-year-olds than ever before attend university, including the highest ever number from disadvantaged backgrounds and we want to give these students a fair deal, both during their studies and afterwards too.
"Not only will it benefit hundreds of thousands of graduates in the next financial year alone, but millions in the years to come."
What is the background to this?
Mrs May announced the tuition fee loan repayment threshold increase on 1 October last year, four months after failing to keep her majority in the general election.
At the same time, she said she had listened to voters and the fees themselves would be frozen at £9,250 a year in England, after a series of rises by universities.
In February, Mrs May launched a review of tuition fees and university funding, saying students in England faced "one of the most expensive systems of university tuition in the world".
The year-long review will be chaired by the author and financier, Philip Augar.
Related Internet Links
The BBC is not responsible for the content of external sites.