Two-child benefit limit lawful, court rules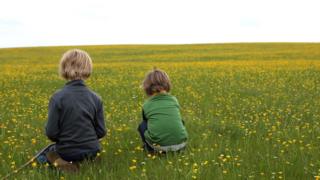 Campaigners have lost a High Court challenge to the government's two-child limit on some benefits.
Lawyers representing three families had argued that the policy was incompatible with human rights law.
But a judge has ruled that limiting tax credits and universal credit to a family's first two children is lawful.
However, Mr Justice Ouseley's ruling also accepted a claim that the rules relating to children in kinship care arrangements were unlawful.
These regulations allow an exception to the two-child rule for families who look after children of relatives - but only if they are the third or subsequent child.
Families who take in a relative's child and subsequently have children of their own, still lose out on benefits, under the policy which came into effect last year.
The Child Poverty Action Group (CPAG), which brought the case, welcomed the judge's declaration that "the purpose of the exception is to encourage, or at least avoid discouraging a family from looking after a child who would be in local authority care, with the disadvantages to the child over family care which that can entail and the public expenditure it can require".
'Important inroad'
CPAG said it was pleased that the judge ruled that allowing an exception to the two-child limit, only if the cared-for child was not the first or second child, was, "not rationally connected with the purposes of the legislation and indeed it is in conflict with them".
Carla Clarke, CPAG's solicitor, called the ruling "an important inroad into a flagship welfare reform policy".
"The irrationality of limiting the exception for children cared for in kinship arrangements to third or subsequent children has been raised on numerous occasions by various bodies, yet rather than accepting such legitimate criticisms and removing the restriction, it has required taking the DWP to court for the unlawfulness to be properly recognised."
The charity said it would appeal against the judge's decision to dismiss its "wider challenge to the lawfulness of the two-child rule as breaching fundamental human rights to private and family life and non-discrimination".
A Department for Work and Pensions (DWP) spokesman said: "We welcome that the court agrees overall that this policy is lawful.
"We value and recognise the important role of people who look after children who would otherwise be in care.
"That's why we will be fully reviewing the judgment and considering our next steps with regards to non-parental carers."
During hearings in February, government lawyer James Eadie had highlighted that the policy aimed to "ensure that welfare spending was sustainable, fair to the taxpayer whilst protecting the most vulnerable".
It was to "ensure that people in receipt of benefits should face the same choices as those who supported themselves solely through work and to ensure that the system created incentives to work and to make progress and work as the best route out of poverty," Mr Eadie argued.